Ein kleiner Automat für Street-Fighter- und Mega-Man-Fans.
Mini-Konsolen bleiben beliebt und auch weitere Entwicklungen eigenständiger Spiele-Maschinen erfreuen derzeit Kundschaft auf dem belebten Markt. So bringt Sega ein Astro-City-Mini-Arcade-Automaten und SNK gab das okay für ein wuchtiges MVSX-System. Nachdem Capcom schon mit einem mit einigen Games bestückten Arcade-Stick Schritte auf dem Sektor ging, geht der Konzern nun etwas weiter: die Capcom Retro Station kommt!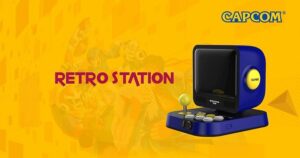 Foto: Capcom
Ein kleiner Automat zum Zocken – die Capcom Retro Station kommt.

Capcom hat ohne viel Trara ein neues Gadget für Spieler kreiert, das in Japan schon am 01. Dezember erscheinen soll. So wurde die Capcom Retro Station auf dem dortigen Amazon entdeckt, wodurch über das mit Bildschirm versehene Kleingerät das Folgende in Erfahrung gebracht werden konnte. Ein acht Zoll großer Bildschirm wird die Games im 4:3-Format darstellen, wobei eine Auflösung von 1024×768 Pixel geboten werden kann. Ein Joystick samt sechs Button befinden sich in dem stylishen Gehäuse direkt unter dem Display. Zehn Spiele sollen auf der Capcom Retro Station schlummern, wobei es sich ausschließlich um Street-Fighter und Mega-Man-Games handelt. Es sollen Street Fighter II, Street Fighter II Champion Edition, Super Street Fighter II, Super Street Fighter II Turbo, Super Puzzle Fighter II Turbo, Mega Man: The Power Battle, Mega Man 2 The Power Fighters, Mega Man X, Mega Man Soccer und Mega Man & Bass vorinstalliert sein. Typisch für derartige Gerätschaften ist es mittlerweile wohl auch, dass ein HDMI-Ausgang vorhanden sein muss, damit auch heimischen TVs und Monitore mit einem Bildsignal versorgt werden können. Dazu soll es später ein besonderes Feature geben, dass es erlaubt, zwei Systeme via 2,4-Ghz-Funk zu verbinden. Für umgerechnet circa 200 Euro können japanische Capcom-Fans die Capcom Retro Station erwerben und sich während der anstehenden Feiertage damit ausgiebig beschäftigen.
Ein eine Playstation 5 wird man bis dahin wohl kaum bekommen …