Entwickler über Entwickler
Da auf verschiedensten Gaming-News-Plattformen, zum Ende der siebten Konsolen-Generation, die besten Spiele gewählt wurden oder noch werden, hat sich Gameinformer.com einmal 35 Programmierer verschiedener Hits der vergangenen acht Jahre geschnappt und sie nach ihren Favoriten gefragt.
Fünf Titel durfte jeder Teilnehmer nennen und nach eigener Begeisterungswertung auflisten.
Programmiersprache.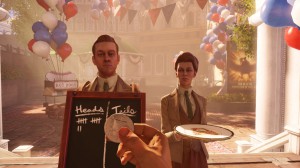 Foto: 2K Games
Bioshock Infinite wurde im Gegensatz zum Erstling nicht genannt.

Das hochgelobte Egoshooter-Unterwasser-Adventure Bioshock nahm den eigentlichen ersten Platz als einzelner Titel ein, nur die Uncharted Reihe wurde dank drei verschiedener Spiele häufiger genannt.
Dessen Entwicklungs Studio Naughty Dog besaß insgesamt die meisten Titel, im Wettkampf um die häufigste Nennung unter Programmierern.
Batman, Red Dead Redemption, Fallout, The Elder Scrolls, Call of Duty und Rock Band waren die weiteren beliebtesten Spiele-Serien, die Entwickler von anderen Entwicklern in den letzten Jahren wertschätzen lernten.
Insgesamt ist Sony Computer Entertainment der Publisher mit den besten Titeln im Programm – 36 Mal sind Games des Playstation Herstellers in der Liste genannt worden.
Gefolgt von Take-Two, Bethesda, Microsoft und dem Schlusslicht Nintendo.
Überraschend häufig ist auch Crackdown vertreten, das ebenso oft wie der weitaus bekanntere Epic Titel Gears of War Erwähnung fand, welches die grafischen Fähigkeiten der Xbox 360 Konsole jedoch eine Zeit lang nahezu definierte.
Interessant ist auch, dass die hauptsächlich aus westlichen Gegenden stammenden Befragten, nur 24 der insgesamt 175 verfügbaren Stimmen an japanische Entwicklungen verteilten.
Dagegen viel Beachtung fanden die kleineren Indie Spiele Journey, Limbo, Braid und Flower.
Auch Gameinformer.com zeigte sich sehr überrascht, dass deren vierter Platz der Generation Sieben Spiele; Mass Effect 2, dagegen nur einmal von den 35 Schöpfern der unterschiedlichsten Spiele genannt worden sei.
Entwickler sehen die Dinge dann eben doch wieder ganz anders –
in Programmiersprache.