Mäuserich mit Pinselstrich
Mit "Disney Micky Epic: Macht der Fantasie" erscheint die 3DS Umsetzung des zweiten Micky Epic Teils, der soeben auch auf allen stationären Konsolen erschienen ist. Im Gegensatz zu diesen Abenteuern besinnt sich Handheld Micky jedoch mal wieder auf ein klassisches Jump´n Run Vergnügen, das aus besten Bitmaptagen stammen könnte, anstatt mit Polygonmodellen und 3D Umgebung Punkten zu wollen.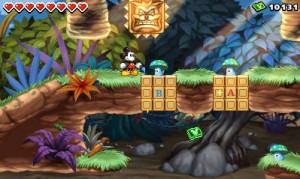 Der Lead-Designer von Macht der Fantasie outete sich bereits auf der E3 2012 als extremer Fan des Micky Mega Drive Klassikers Castle of Illusions, das er als Bub wohl tagtäglich erfolgreich durchspielte. Nun durfte er sich über zwanzig Jahre später daran versuchen, seinen All-Time-Favorite mit offizieller Unterstützung auf Nintendos 3D Maschinchen inoffiziell fortzusetzen.
Grund für Micky´s Tatendrang liegt in dem Erscheinen des besagten Schlosses der Illusionen, das sich im Wasteland manifestiert hat und nun für Unruhe und Gefahren sorgt. Dank des Hasen Oswald bekommt Micky von der Sache Wind, erfährt von der Entführung Minnies sowie von der Rückkehr der bösen Hexe Mizrabell.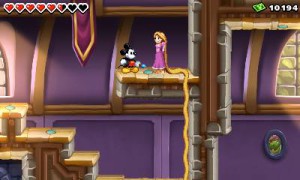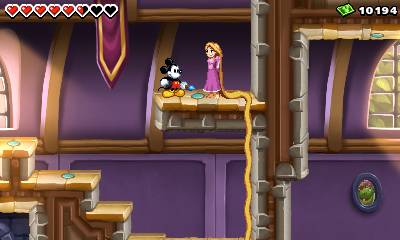 Mit Verdünner, Farbe und dem magischen Pinsel ausgestattet macht sich die Heldenmaus daher auf, die Geliebte sowie weitere Toons auf dem Weg zum Thronsaal zu befreien und dabei beliebt, bekannte Disney-Welten zu besuchen. Dank Hosenbodenattacke zerhüpft ihr Standardgemäß die putzigen Gegner. Mit den Fähigkeiten des Pinsels fügt ihr Objekte ein oder entfernt sie aus dem Level, um voranzuschreiten. So befreit ihr viele bekannte Disneyfiguren und entdeckt Level im Stile verschiedener Disney Kinofilme. Veteranen blüht das Herz auf, wenn sie mit Mega-D Micky über den Markplatz des Aladdin Films springen dürfen, dessen Versoftung ihnen aus 16Bit Tagen auch noch gut in Erinnerung geblieben ist.
Der Stylus und der untere Bildschirm des 3DS werden dazu genutzt, um die Objekte innerhalb der Level zu verschieben oder wunschgemäß zu verändern, wobei man Linien exakt nachzeichnen muss oder das ganze Problem einfach ausradiert. Dieser Einsatz scheint ein wenig zu oft nötig, was den restlichen Spaß am Retro Hüpfer aber wenig schmälert. Ein typisches Disney Spiel, das seine Lizenz zu würdigen weiß und mit Charme sowie Fantasie Retro-Freunden gefällt.
Mit Disney Micky Epic: Macht der Fantasie auf dem 3DS kann man erneut ins
Castle of Illusions.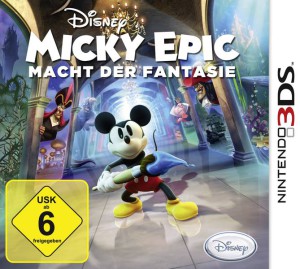 Disney Micky Epic
Fotos: Disney Interactive
Circa 36€
USK 6
Nintendo 3DS – ASIN: B0081PP772