Home of the Brave – Land of the Free
Rockstar Games veröffentlicht eine Zeitreise in die amerikanische Urzeit.
Den Wilden Westen!
Mit Red Dead Redemption erscheint der zweite Teil der Red Dead Reihe, welcher mit "Revolver" seinen Einstand fand. Die Erfahrungen von Rockstar Games mit Open-World Spielen ist seit GTA Tagen sicherlich der größte Vorsprung gegenüber ihrer Konkurrenz. Der weltweite Erfolg der GTA-Reihe spricht für die richtige Herangehensweise an ihre Projekte.
So lag es wohl nah, Erfahrung und Franchise zusammenzuführen und ein Wild-West-Epos zu veröffentlichen, das die Welt so vorher nie hatte.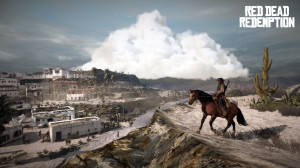 Als John Marston bereist ihr das alte Amerika, um entweder für Recht und Ordnung zu sorgen oder um Angst und Schrecken zu verbreiten. Die Entscheidung liegt bei euch.
Den Zugereisten mit USA Visum erwarten in Red Dead Redemption eine Unmenge an Aufgaben, Missionen und Möglichkeiten. Angefangen vom Hufeisenwerfen, Pokern, Verbrecher jagen, Verbrecher sein, Sheriff spielen, Sheriff erschießen, Kühe treiben zum Büffel jagen, findet sich die Hauptaufgabe Marston´s in dem Erledigen ehemaliger Kollegen aus vergangenen Verbrechertagen. Unter der Aufsicht der staatlichen Behörden müsst ihr eure alte Gang vernichten, damit eurer Familie die Sicherheit gewährt bleibt.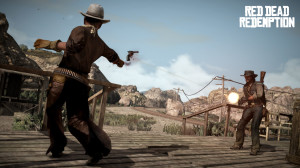 Unter Druck arbeitet es sich bekanntlich besonders gut und so hat John einen Vorteil gegenüber den ansässigen Schießeisenträgern. Mittels Dead Eye verlangsamt ihr die Zeit, nehmt ein paar Ziele gleichzeitig aufs Korn und ballert sie in der darauf folgenden Sekunde über den Haufen.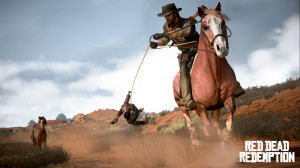 Dass Rockstar es wieder geschafft hat eine authentische Welt zu erschaffen, die mit umherziehenden Tieren, eigenständig handelnden Bewohnern und der vor Details strotzenden Umgebung zum Leben erweckt wird, braucht man kaum noch zu erwähnen, dass aber über viele Stunden eine dichte Atmosphäre mit spielerischer A-Klasse verbunden wird und die geschürte Erwartungshaltung absolut erfüllt wurde, dagegen schon – Online Modi inbegriffen.
Lets go West – Erschießt den Rest!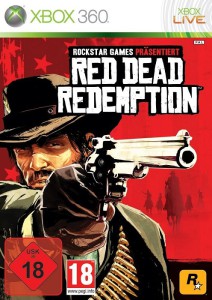 Red Dead Redemption
Fotos: Rockstar Games
Usk 18
Circa: 50€
PS3:ASIN: B001TCOQ3A
Xbox360:ASIN: B001TCOQ3K