Jedi Menü 2: Sturmtruppengeschnetzeltes
Was ist besser als Star Wars oder Videospiele? Ganz klar: Star Wars Videospiele!
Sich seiner Macht bewusst, wurden schon dutzende Videospielkonvertierungen der beliebten Weltraumoper in George Lucas´ Auftrag geschrieben, die sogar meist den Ansprüchen der Fans gerecht wurden.
Im November schon erschien mit Star Wars: The Force Unleashed II der zweite Teil der offiziellen Star Killer Story, der uns leider aber nicht zeitnah erreichte und somit hier erst besprochen wird.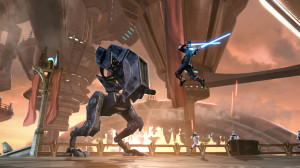 Schon im Erstling The Force Unleashed durfte man sich von den Fähigkeiten des brutalen Vader-Schülers überzeugen und einige wunderschöne Teile der Galaxie bewundern, um dann vieles darin zu zerstören. Nun, in Teil zwei seid ihr erneut am Leben, den Kamino Klonern sei Dank, und müsst dieses Gut gegen euren alten Meister verteidigen.
Wie schon im Vorgänger schnetzelt ihr euch dazu mit euren Laserschwertern durch die fulminant gestaltete Science-Fiction Umgebung, die eine wirklich prachtvolle Darstellungsqualität erreicht und mit vielen Details zu gefallen weiß. Mit Jedimacht vertraut, seid ihr ein starker Gegner des Imperiums geworden und so scheut sich die imperiale Führungsspitze nicht, massenweise Sturmtruppen, riesige Alienmonster und schweres Gefährt gegen euch in die Schlacht ziehen zu lassen. Ihr entwickelt durch den ständigen Kampf Hack´n Slay typisch eure Fähigkeiten und lernt mächtige Angriffe dazu.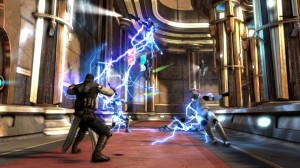 Während Stimmung, Action und Setting in Star Wars: The Force Unleashed II meist ideal gewählt sind, stellt sich die haklige Steuerung und vor allem die zu kurze Spieldauer des Star Killers in den Weg zur absoluten Spaßgranate. Gerade auf den höheren Schwierigkeitsgraden wird das hektische Knöpfen drücken zum Glücksspiel, da die Erkennung oft nicht richtig funktioniert. Dennoch ist es auf den leichteren Modi eine Freude als Jedi-Anti-Held durch die Galaxie zu streifen und mit staunenden Augen sein Recht aufs eigene Leben zu erkämpfen und dabei ein wichtiger Teil der bekannten Star Wars Geschichte zu werden.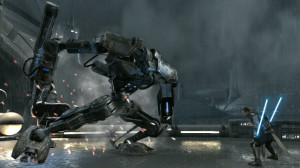 Die Macht ist ein starker Verbündeter, eben auch für Videospiele. Aber wer weiß, vielleicht ist bis zum Erscheinen dieses Tests, Star Wars typisch, die komplette und mit wesentlich mehr Inhalt gefüllte "Sith Edition" angekündigt, wie das beim Vorgänger schon nach kürzester Zeit der Fall war. Auf diese sollte man sicherlich warten, um sich dann als perfekt gestylter Jedi-Krieger Vader in den Weg zu stellen und nicht nur als fix geklonte Spielzeugpuppe ein paar kurze Stunden im Weltall zu verbringen.
Jedi Schnellimbiss

Star Wars: The Force Unleashed II
Fotos: Lucasarts
PS3-ASIN: B003URR29W
Xbox360-ASIN: B003URR2AG
PC-DVD-ASIN: B003URR29M Usk 16 Circa 60€