Der Hexer
Mit The Witcher 2: Assassins of Kings – Enhanced Edition erscheint eine exklusive Xbox360 Umsetzung des letztjährigen PC-Rollenspielhits aus dem polnischen Hause CD Projekt RED.
NamcoBandai Partners nahm sich dem Erfolg an und serviert Konsolenspielern nun eine aufgebohrte Version des klassischen, westlichen Abenteuers, in dem ihr die Rolle des Hexers Geralt von Riva übernehmt, der den ihm in die Schuhe geschobenen Mord am bis dato herrschenden König aufzuklären versucht. Nach gelungener Flucht aus den königlichen Kerkern gilt es eure Unschuld zu beweisen und den Mörder zu fassen, um ihn seiner gerechten Strafe zu überlassen.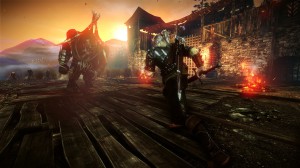 In zauberhaften, mittelalterlichen Umgebungen versucht ihr in eurem Tun voranzuschreiten, indem ihr Aufträge annehmt, Gegnerhorden vermöbelt und in Gesprächen Wissenswertes in Erfahrung bringt. Geralt kann dazu mit Zaubersprüchen seinem flinken Schwertkampf unterstützend mehr Nachdruck verleihen und hat davon fünf in der Hinterhand. Ebenso lassen sich helfende Tränke brauen, stärkere Waffen entwickeln und nützliche Talente ausbauen. Das Besondere neben der passend erzählten Geschichte ist die dynamische Spielbarkeit des Titels, der so schon fast an ausgearbeitete Hack´n Slay Spiele erinnert und mit actionlastigem Gameplay vielen Genrekollegen zeigt, wie man Rollenspielhits heute auch verpacken kann. Neben der gelungenen grafischen Umsetzung auf die Konsole hat der Titel noch einiges an neu entwickelten Inhalt spendiert bekommen, so dass alle drei Kapitel des Spiels in einem Guss und ohne dass bemängelte abrupte Ende der PC-Version erlebt werden können.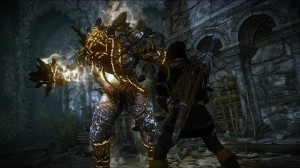 Besitzer der PC-Version kommen jedoch auch in den Genuss aller Verbesserungen, da CD Projekt einen kostenlosen Download der erweiterten Inhalte bereits im Internet anbietet. An solchen Entscheidungen, genau wie an der qualitativen Messlatte, dürfen sich andere Publisher gerne ein Beispiel nehmen. Da nicht nur eine bloße Umsetzung von The Witcher 2: Assassins of Kings, sondern ein gänzlich verbessertes Spiel als Enhanced Edition erschienen ist, bei dem dennoch niemand nachträglich neidisch auf den Teller des anderen schielen muss, darf jeder gerechtigkeitssuchende Videospieler nicht nur virtuell seinen Attitüden frönen, falls er in die Fußstapfen des Hexers in The Witcher 2: Assassins of King´s – Enhanced Edition steigen mag.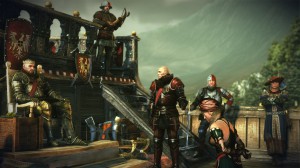 In einem gelungenen Rollenspiel auf der Suche nach dem Königsmörder faire Hersteller zu unterstützen, ist wie mit Justitia an einer Seite schwertkämpfen zu dürfen.
The King is dead, hail to the Witcher.

The Witcher 2
Fotos: NamcoBandai Partners
USK 16
Circa 59€ / 39€
Xbox360 – ASIN: B006ZT6BGM
PC-DVD – ASIN: B0072UJG9M