Rise from your Grave!
Jeder alte Zocker erinnert sich mit Wehmut an die alten Zeiten, als Sega noch ein großer Produzent von Arcade-Games und Konsolensystemen war. Hochkarätige Klassiker entstanden zu dieser Zeit, als die Welt noch in Ordnung schien. Damit auch heute wieder etwas bunte Videospielkultur auf Bildschirmen flimmern kann, setzte Sega neun Klassiker für den Nintendo 3DS um. Darunter einige Hitkandidaten, die in ihrer Zeit besondere Aufmerksamkeit erregten –
die Sega 3D Classics Collection.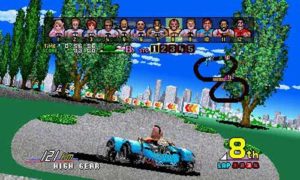 Auf dem Modul stecken Altered Beast, Fantasy Zone II W, Power Drift, Thunder Blade, Galaxy Force II, Sonic the Hedgehog, Maze Walker, Puyo Puyo II und Fantasy Zone II – The Tears of Opa-Opa.
Sega lässt diese Games in dreidimensionaler Darstellung wiederbeleben und nutzt die jeweils beste Version. So finden sich echte Arcade-Ports, eine Mega-Drive-Umsetzung und Master-System-Spiele auf dem Cartridge, der Highscores speichert und einige Einstellungsoptionen bietet. Besonders profitieren die Super-Scaler-Games, die mit pixligen Zooms schon früh versuchten, einen realistischen Tiefeneindruck auf dem Spielfeld zu simulieren.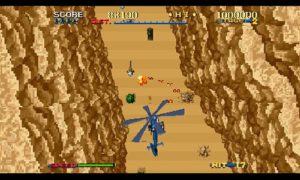 Galaxy Force II galt seinerzeit als einer der aufwendigsten Arcade-Automaten, dessen bunte Weltraum-Action in echtem 3D auch heute noch verzaubern kann. Thunder Blade nutzt den 3D-Screen zur effektvollen Tiefendarstellung von Häuserschluchten, durch die man einen Kampfhubschrauber manövrieren muss. Power Drift ist Racing-Spaß der alten Schule, der dort vermittelte Geschwindigkeitsrausch gefällt aber noch auch in 2016. Die typischen Sidescroller profitieren dagegen weit weniger von dem einmaligen Tiefeneffekt des Nintendo-Handhelds, doch auch Sonic oder Fantasy Zone II W sind mit unterschiedlichen 3D-Ebenen versehen worden, die die alten Titel grafisch etwas auffrischen.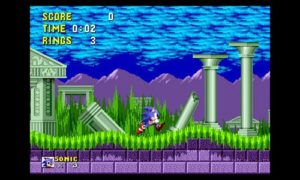 Insgesamt lohnt sich der Ausflug in die goldene Vergangenheit, auch wenn etwas mehr Hintergrundinformation zu den jeweiligen Games nicht geschadet hätte. Da in Japan bereits ein Vorgänger mit sechs Sega-Titeln erschien und auch schon eine dritte Sammlung geplant ist, sollte das alleine jedoch für den kurzweiligen Spaßfaktor der Sega 3D Classic Collection sprechen können.
Service Games!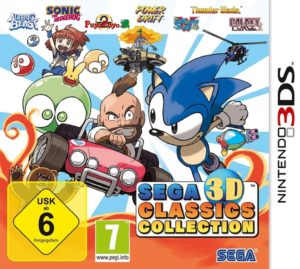 Sega 3D Classics Collection 3DS
Fotos: Sega
USK 6
Circa 29 €
Nintendo 3DS – ASIN: B01KDOH5S2