Etwas mehr Software gibt das System doch her.
Nachdem die Switch-Präsentation von Nintendo am Morgen des 13.01.2017 beendet wurde, war eines sehr schnell offensichtlich: Spiele erscheinen auf der tragbaren Heimkonsole nicht so häufig, wie erhofft, noch zeigten sich vermisste Marken im Vergleich zu vielen Wiederveröffentlichungen. Doch es sind weitere Switch Games für 2017 versprochen.

Foto: Nintendo
Wichtigster Faktor für Erfolg sind Spiele – Switch hat nicht viele.

Zum Release der Switch-Konsole erscheinen zusammen mit The Legend of Zelda: Breath of Wild nur vier weitere Spiele. Insgesamt machte es bisher den Eindruck, dass nur 28 Spiele bis Ende des Jahres im Idealfall für Nintendo Switch erscheinen würden. Darunter bereits erhältliche Games, die kaum einen großen Anreiz zum Umsteigen bieten.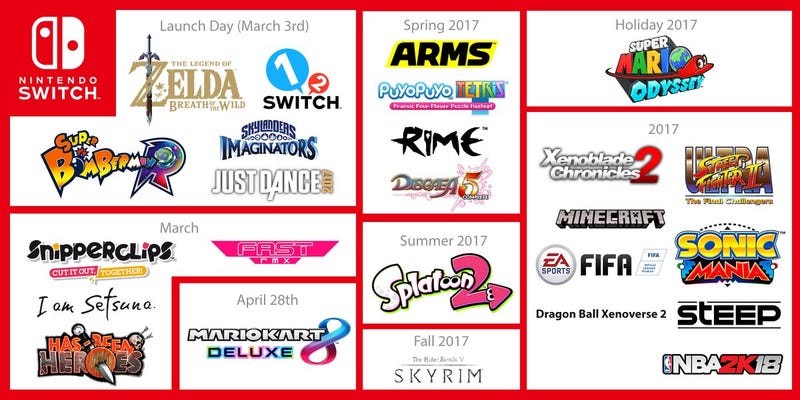 Grafik via Kotaku.com
Switch Software für 2017 bisher mau.
Da diese Situation nahezu einheitlich unter Spielern wahrgenommen wurde, kommt nun eine kleine Entwarnung seitens eines Nintendo-Angestellten, der sich mit den geplanten Veröffentlichungen für Nintendo Switch auskennen sollte. Der Head of Partner Management für Publisher & Developer Relations bei Nintendo of America Damon Baker versprach, dass in den kommenden Wochen noch viele weitere Titel verraten werden, die sich für Nintendo Switch in Entwicklung befänden.
Während der groß angelegten Präsentation des Systems sprach Nintendo selbst von über 80 Spielen in geplanter Produktion, zeigte jedoch nur einen wenig aussagekräftigen Trailer, der keine wirklichen Rückschlüsse über die tatsächliche Lage hinter den Entwicklungskulissen erlaubte. Der erste Eindruck in der Spielergemeinde hinterließ in den besten Fällen daher nur eine leichte Enttäuschung.

Wo ist … ?! Warum kein … ?! Wieso fehlt … ?!
Spürbare Erholung auf diesem Sektor bewirkt  somit nur etwas Gutes.