Erscheinungstermin gesichert.
Nachdem Nintendo heute Nacht alle vorliegenden Details über die am 03.03.2017 erscheinende Switch-Konsole verriet, wurde auch endlich Klarheit über die Veröffentlichung des am sehnlichsten erwarteten Titels geschaffen. The Legend of Zelda Breath of the Wild für WiiU erscheint zeitgleich mit der Modulfassung für das neue Gerät.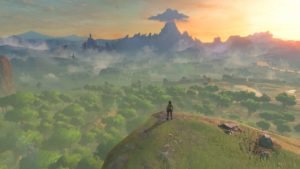 Foto: Nintendo
Spiele wichtiger als Gerät – Zelda zeigts.

Mit einem Preis von circa 300 Euro für Switch, einem Mario-Spiel, das erst zur Weihnachtszeit erscheinen wird und der Ankündigung, zukünftig für Onlineservice Gebühren zu erheben, zeigte sich Nintendo überraschend selbstbewusst, nachdem mit dem WiiU-System weniger erfolgreich in die Vollen geschlagen werden konnte. Natürlich ändert sich etwas an der Notwendigkeit des neu vorgestellten Systems Switch, will man auf das faszinierende The-Legend-of-Zelda-Spiel Breath of the Wild nicht verzichten, besitzt aber noch keine seit 2012 erhältliche WiiU-Konsole. Für das aussterbende Gerät erscheint der einzige Hingucker der heutigen Switch-Präsentation nämlich allen Gerüchten zum Trotz natürlich noch, was der geliebten Spiele-Maschine ein weiteres unverzichtbares Highlight beschert. Und während weitere Gerüchte vor dem früh stattfindenden Nintendo-Auftritt noch Angst über eine Verzögerung schüren wollten, können sich WiiU-Spieler nun ganz entspannt zurücklehnen, da auf ihrem bereits im Besitz befindlichen WiiU das kommende Zelda-Game pünktlich im Laufwerk rotieren kann. The Legend of Zelda Breath of the Wild für WiiU erscheint zeitgleich mit der Switch-Version am 03.03.2017.

Stimmung entsteht – Breath of the Wild wird groß!
Das Einzige, was zählt …