Händler in UK bietet Vorbestellungen an.
Sega hatte nach dem Release des Mega Drive Mini etwas Blut geleckt und ein kleines Arcade-Modell in Form des Astro-City-Automaten im Juli 2020 angekündigt. In Asien ist das System – das 37 Arcade-Klassiker enthält – bereits schon länger erhältlich und einige schlaue Sammler bestellten sich das Gerät über den Importweg. Nun wird jedoch auch das Sega Astro City Mini bald in Europa landen und ein bekannter Händler aus England bietet Optionen zum Vorbestellen an.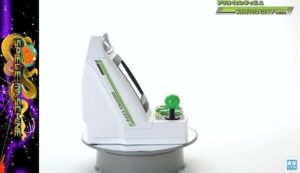 Foto: Sega
Sega Astro City Mini bald in Europa erhältlich – Mai 2021.

Wie TheGG.net bereits vor zwei Tagen meldete, wird sich Funstock.uk dem Verkauf des Sega Astro City Mini widmen und bietet nun Vorbestellungsoptionen für den globalen Raum an. In England kann der kleine Arcade-Automat – der 37 Spiele inklusive Bildschirm bietet – versandkostenfrei vorbestellt werden. Andere Gefilde zahlen für das Porto. Am 28.05 2021 ist der offizielle Release im Westen der Welt, sodass kurz vor dem Sommer hierzulande auch an der Spiele-Maschine etwas Zeit verbracht werden kann. Für 129,99 britische Pfund ist das System nicht ganz günstig, bietet es aber erstmals eine originale Fassung des beliebten ersten Polygon-Prügelspiels Virtua Fighter sowie weitere Schmankerl, die es bislang nie in einer Heimversion gab. Ebenfalls kann man ein Bundle für 189,99 Pfund erwerben, das gleich mit zwei zusätzlichen Gamepads daherkommt, sodass am großen TV direkt zu zweit gezockt werden kann.
Damit die Liste der Spiele nicht in Vergessenheit gerät, hier noch einmal die Games des Sega Astro City Mini:
Virtua Fighter
Space Harrier
Rad Mobile
Fantasy Zone
Altered Beast
Golden Axe
Golden Axe – The Revenge Of Death Adder
Alien Syndrome
Alien Storm
Wonder Boy
Wonder Boy In Monster Land
Wonder Boy III Monster Lair
Shinobi
Shadow Dancer
Cyber Police Eswat
Crack Down
Gain Ground
Quartet 2
Puyo Puyo
Puyo Puyo 2
Columns
Columns II
Stack Columns
Bonanza Bros.
Tant-R
Ichidant-R
Thunder Force AC
Sonic Boom
Dottori Kun
Flicky
Sega Ninja
My Hero
Arabian Fight
Dark Edge
Cotton
"Alex Kidd with Stella The Lost Stars"
Scramble Spirits
All true Arcade!