Shazam in Klötzchenform
Die gesamten Traveller's Tales Versoftungen, rund um die vielen, von Lego eingekauften Universen, verliefen in den vergangen Jahren immer ziemlich erfolgreich. Nach Harry Potter, Star Wars, Batman, der Herr der Ringe, Pirates of the Carribean sowie eigenen Lego Videospielen, war es wohl an der Zeit, die nächste erfolgreiche Marke ins bunte Bauklötzchendesign zu verfrachten.
Die bekannten Marvel Superhelden Riege war bisher ungenutzt und lockt somit vielleicht alle vorherigen Missachter, der kindgerechten, virtuellen Späße, einen genaueren Blick auf die unterhaltsame Plastikspielzeug-Videogame-Lizenzware zu werfen.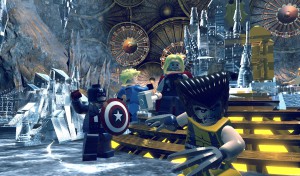 Schließlich bietet das neuste Werk nicht nur einen Superhelden, sondern gleich die ganze bekannte Schar aus Stan Lee´s Trick-Schatzkiste.
Von Iron-Man, Spider-Man, dem Hulk, Hawkeye, Black Widow, Dr. Doom, Mr. Fantastic und unzähligen weiteren Charakteren, bekommen Kinder und Kindgebliebene ihre volle Marvel-Breitseite auf die Pupillen und in das Herz gefeuert.
Denn auch wer sich nicht mit den kleinen Helden in ihrer simplen und wenig herausfordernden Spielmechanik anfreunden kann, wird über den versprühten Charme der Mini-Heroes ein ebenso breites Lächeln auf das Gesicht gezaubert bekommen.
Ohne an typischen Marvel-Comic-Elementen zu sparen, wird die Erzählung, um einen alles verschlingenden Galactus, seinen versklavten Schergen den Silver Surfer und die mächtigen Fragmente aus dem All, um die sich alle zanken, in solch sympathischer Weise präsentiert, dass selbst Gewaltakte immer nur niedlich wirken.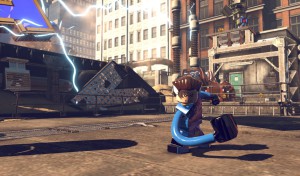 Auf der Suche nach versteckten Bauklötzen und Punkten alles zu Klump zu schlagen, der Schwarzen Witwe mit Doppel-Pistolen im Dauerfeuer Lego-Manhattan beim Verwüsten zuzusehen oder per Knopfdruck aus einem kleinen Bruce Banner den mächtigen grünen Hulk werden zu lassen, sind so wenig wichtige, dafür aber umso sympathischere Aktionsmöglichkeiten des fröhlichen Bauklotzdaseins. Und so klein ist das Gebotene wiederum auch nicht, schließlich wurde, wie in den neueren Werken der Travellers´ Tales-Spiele, eine komplette, offene Welt gestaltet, die zwischen Missionen zum Erforschen einlädt.
Während beider Spielmomente kann man meistens zwischen zwei oder sogar vier Charakteren per Knopfdruck wechseln, deren Spezialfähigkeiten natürlich aus den Comics entsprungen sind und die im Game während kleiner Knobelaufgaben gefordert werden.
Auch für Späße im Zwei-Spielermodus ist Lego Marvel Super Heroes daher gut geeignet.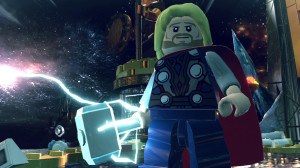 Überraschend hübsch ist mittlerweile auch die Grafik, bei den eigentlich wenig hübschen Grundbausteinen aus Plastikhausen.
Doch nette Shader, Partikel-Effekte und Liebe zum Detail, auch während aller Animationen der Helden, machen die eckige Grundstruktur der Spiele-Grafik fast zu einem Genuss, obwohl sie ab und an leider auch leicht ins Stocken gerät.
Albern, kindlich und echt süß präsentieren sich dennoch die Avengers, Fantastic Four und viele, viele andere Superhelden wie Schurken, um einmal ganz anders aus ihrem actionreichen Leben berichten zu können.
Großes Kino für kleine Helden.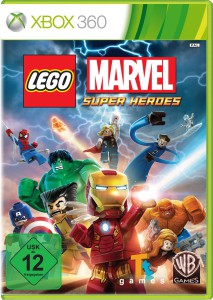 Lego Marvel Super Heroes
Fotos: Warner Bros. Interactive
USK 12
Circa 49€
PS3 – ASIN: B00DO29RJ6
Xbox360 – ASIN: B00C2OLJRU
WiiU -ASIN: B00C2OLJSE
PC-DVD – ASIN: B00C2OLM1I
PS4 – ASIN: B00E3T2SWC
XBOXone -ASIN: B00E3T2UZC
PSV -ASIN: B00C2OLJP2
3DS – ASIN: B00C2OLJP2