Nektar & Ambrosia für Auge und Ohr
Mit El Shaddai – Ascension of the Metatron veröffentlich Konami in Deutschland einen UTV Ignition Games Titel der besonderen Art. Takeyasu Sawaki, der sich schon für den Cellshading Ausnahmetitel Okami verantwortlich zeichnete, schwingt erneut den virtuellen Pinsel und lässt in El Shaddai die Götter los.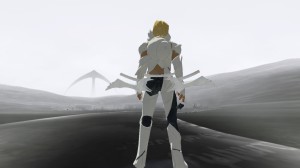 In famosen grafischen Welten mit einem überaus gelungenen künstlerischem Anspruch an expressionistisch anmutende Darstellungen, wird der Spieler zu Enoch, Krieger des Allmächtigen, der auf die Erde kommt, um die gefallenen Erzengel in Gottes Namen zu bestrafen, Ordnung in das göttliche Gefüge zurück zu bringen und die Menschheit vor dem Tag des Jüngsten Gerichts zu bewahren.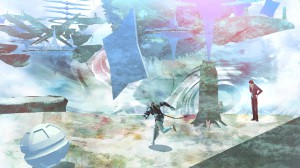 Dazu bestehlt ihr feindlichen Helfershelfer ihrer Waffen und setzt diese, nachdem sie von euch purifiziert wurde, gegen die gefallenen Engel ein. Mit rhythmisch abgestimmten Eingaben variiert ihr dabei eure Angriffsmuster, was das Lernen von Buttonkombos ad absurdum führt. Die Moves unterscheiden sich dabei dann zwischen Stärke, Dauer und Geschwindigkeit, in der ihr den Erzengeln die Leviten lest.
Eure ausgerüstete Waffe wird durch den geistlichen Gebrauch jedoch verdorben, was regelmässige Salbungen jener nötig machen, um ihre exorzistische, göttliche Reinheit erhalten zu können.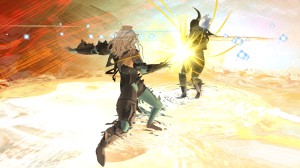 Als typisches Hack´n Slay getarnt erlebt ihr in EL Shaddai so einen illuminierenden Göttertrip, der mit knallenden Farben, sakralen Melodien, herrlichen Animationen sowie einer flüssigen Spielbarkeit alle Psychonauten sofort in seinen Bann zieht.
Das religiöse Thema und die ideenreiche Umsetzung gewohnter spielerischer Finessen in dieser nahezu heilig anmutenden Form machen El Shaddai-Asscension of the Metatron zu einer akustisch, visuellen Erfahrung jenseits des üblichen, sterblichen Diesseits.
Erlebet!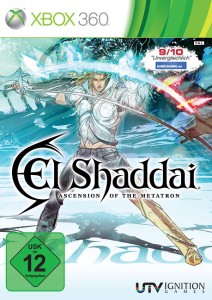 El Shaddai – Ascension of the Metatron
Fotos: UTV Iginition Games
USK 12
Circa 60€
XBOX360 – ASIN: B005G170LU
PS3 – ASIN: B005G170G0