Orsinium-Jubiläumsevent startet heute um 16:00 Uhr
Seit einem Jahr dürfen Online-Rollenspieler in dem fernen Orsinium Zeit verbringen. The Elder Scrolls Online feiert Orsinium aus diesem Grunde gebührend und bietet einige Rabatte für die virtuellen Bewohner des Bethesda-Games. Welche Vorteile vom 07. – 21. November online auf mutige Abenteurer warten, verriet der Hersteller daher heute per Elektrobrief.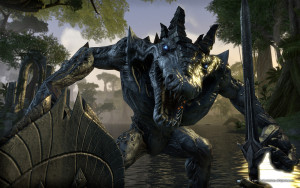 Foto: Bethesda
Online Verreisen nach Orsinium mit Monster im Schlepptau.

Folgende Mitteilung landete in unsere Postkasten, die über die Festivitäten in The Elder Scrolls Online informiert:
The Elder Scrolls Online feiert das einjährige Jubiläum der zweiten DLC-Spielerweiterung Orsinium mit einem besonderen Event. Die Festlichkeiten beginnen heute mit 75 % Rabatt auf Orsinium, doppelter Beute und Belohnungen sowie einer Rückkehr des Orsinium Collector's Bundle mit einem satten Rabatt.
Die DLC-Spielerweiterung Orsinium wurde am 2. November 2015 veröffentlicht und eröffnete den Zugang zu einer neuen riesigen Zone mit mehr als 20 Stunden zusätzlichem Inhalt, einer neuen Monster-Arena für Einzelspieler, zwei neuen öffentlichen Dungeons und vielem mehr. Orsinium führt Sie in die schneebedeckten Berge von Wrothgar und direkt in die Hauptstadt der Orks, wo Sie finstere Machenschaften aufdecken und durchkreuzen, während Sie brandneuen Gegnern und Verbündeten begegnen.
Das Orsinium-Jubiläumsevent startet heute um 16:00 Uhr und endet am 21. November um 16:00 Uhr.
Was diese Feierlichkeiten besonders macht:
Auf die DLC-Spielerweiterung Orsinium gibt es 75 % Rabatt
Das Orsinium Collector's Bundle kehrt mit 60 % Rabatt zurück und enthält:
– Die DLC-Spielerweiterung Orsinium
– Den Höhlenbären (Reittier)
– Das Höhlenbärenjunges (Begleiter)
– Fünf Kronen-Schriftrollen des Lernens
Weltbosse, tägliche Verliesquests und die Mahlstrom-Arena gewähren die doppelte Anzahl an Belohnungen. Spieler, die die Arena im Veteranenmodus abschließen, erhalten zwei Mahlstrom-Waffen. Handwerker erhalten die doppelte Menge an Material von den Handwerksressourcen in Orsinium, darunter Holz, Erz, Stoff, Alchemiewasser und Kräuter.
Alle Infos zum Jubiläumsevent finden Sie hier: http://www.elderscrollsonline.com/de/news/post/2016/11/02/feiert-das-einjahrige-jubilaum-von-orsinium
Wetzt die Schwerter und sattelt die Pferde.