Schlechte Reviews für ein eigentlich recht gutes Spiel.
Das Erscheinen von Nier: Automata glich schon einem kleinen Wunder. Dass das Game nach Erscheinen dann auch noch die Zockergemeinschaft begeistern konnte, toppte dies dann nochmals. Seitdem zählt Nier zu einer Marke von SquareEnix, die immer stärker in den Vordergrund gerückt wird. Leider gibt es aber auch schlechte Nachrichten bezüglich der Liebe des Publishers, da eine Version auf PC nicht den Ansprüchen der Gamer gerecht gemacht wird. Nier: Automata auf Steam verärgert Gamer.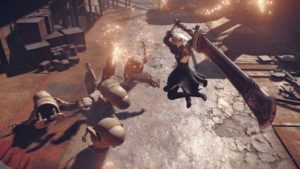 Foto: SquareEnix
Auch Nier: Automata ist grafisch kein Highlight.

Da SquareEnix es bislang verschlafen zu haben scheint, die neusten Updates in der Game of the YoRHa Edition von Nier: Automata auf der Plattform Steam anzubieten, macht sich bei Zockern Unmut breit. In den letzten drei Tagen wurde das eigentlich recht beliebte Game mit über 300 negativen Kommentaren versehen, weil einzig Mods von Drittanbietern gewisse Probleme des Programms beheben. Während auf dem Windows Store ein Become the God Update veröffentlicht worden ist, das DLCs, 4K-Auflösung und HDR implementierte, gingen alle Nutzer auf Steam bislang vollkommen leer aus, was die nachträglich hinzugefügten Verbesserungen betrifft. Aus diesem Grund sinkt Nier: Automata aktuell in der Gunst der PC-Spieler, was in Zukunft dafür Sorgen könnte, dass es in Bälde auf Steam nicht mehr als ein "Mostly Positive" gewertetes Angebot gelistet sein wird. Vor dem Aufschrei in der Gaming-Gemeinde war das Rating sogar "Very Postive", sodass schnell erkennbar ist, welche Auswirkung die Meinung verärgerter Spieler haben kann. SquareEnix sollte daher jetzt nicht mehr allzu lange warten, die bestehenden Probleme der Steam-Version auszubügeln, die sich von Bildrateneinbrüchen bis hin zu kompletten Abstürzen des Spiels zeigen. Da schon im nächsten Monat das Remake des ersten Nier erscheinen wird, könnte es schon von Bedeutung sein, den guten Ruf in der Community nicht kurz vor dem Release zu verspielen. Es dauerte schließlich recht viele Jahre, die Bedeutung des Originals in die Köpfe der Zocker zu bekommen.
Und Nier: Automata auf Steam verärgert Gamer jetzt zu Recht.