New Realities
Wie Edge.com heute meldete, sei man sich sehr sicher, dass Sony auf der Games Developer Conference ein eigenes Virtual Reality Headset vorstellen werde. Sony VR erscheine!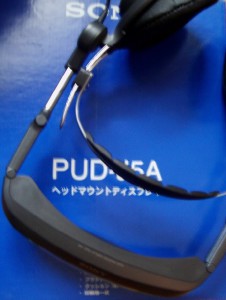 Foto: mze
Das Sony Pud-J5A VR-Headset für PS2 könnte einen Nachfolger bekommen.
Dieses Mal Playstation4 tauglich.

Am 18.März würde während des Events "Driving the future of innovation" die Bombe platzen und das Virtual Reality Add-On für die Playstation4 vorgestellt, das laut den Gerüchten sogar das neuste Oculus Rift Modell Crystal Cove in technischen Aspekten schlagen solle.
Wie Sony Pressesprecher aber in solchen Fällen zu sagen pflegen, kommentiert der Konzern keine Gerüchte oder Spekulationen.
Edge lässt dafür einige Enwickler zu Wort kommen, die der Meinung sind, dass ein Zusammenwirken der PlaystationEye Kamera, des leuchtenden Dualshock4 Controllers und des möglichen Sony VR-Headsets, für eine Übertragung von weiteren Körperbewegungen, abseits der des Kopfes, in die virtuellen Welten gut möglich wäre.
Fragt sich nur noch, wann die passenden Titel erscheinen und was der massenmarkt-taugliche Spaß dann kosten soll.