Musik von Madeon möglich.
Der Twitter Account des Sega Maskottchens Sonic the Hedgehog erfreut sich seit einiger Zeit ziemlicher Beliebtheit.
Ohne ein Blatt vor den Mund zu nehmen, antwortet ein Sega-Angestellter im Namen des blauen Igels und trifft dabei regelmäßig die Stimmung des Internets.
Nun wurde auf Twitter eine überraschende Ankündigung gemacht.
Mit Musik von Madeon könnte in Kürze eine neues Sonic Adventure am Start sein.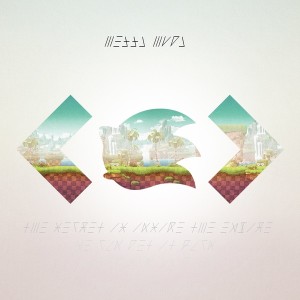 Foto via Twitter.com
Kryptische Botschaft – Fans des Igels sind aus dem Häuschen.

Die auf Sega Dreamcast veröffentlichten Teile der Sega-Reihe fanden gefallen beim Volk und besonders grafisch zeigten diese Werke, wo die blauen Wunder geschehen.
Nun ist viel Zeit vergangen und Sega versuchte den Igel immer wieder in unterschiedlichen Herangehensweisen wiederzubeleben – teils erfolgreich, teils im Gegenteil.
Auf Twitter wurde nun ein Cover des französischen Musikers Madeon bemerkenswert überarbeitet auf die Masse losgelassen, was sofort Gründe für neue Spekulationen lässt.
Zum einen bedienten sich die Sega-Angestellten dessen neusten Cover-Artworks und hinterlegten die Green-Hill-Zone aus Sonic-Spielen. Dann nutzten sie eine Geheimsprache des Elektro-Artisten um eine versteckte Botschaft zu übermitteln und zu guter Letzt strahlt auch die Visage des beliebten Charakters als Scherenschnitt auf dem überarbeiteten Cover-Artwork sichtbar entgegen.
Übersetzt man die merkwürdigen Zeichen der Botschaft, steht folgende Information verständlich in lesbarer Schrift:
Hello Hugo.
The secret is inside the empire.
We can get it back.
The fated son of deadalus.
Add the numbers.

Musikalisch dürften Sonic-Fans bei einer wirklich stattfindenden Kooperation elektronische Musik in Madeon-Qualtität erwarten.
Dieser heißt schließlich Hugo mit Vornamen, was einen Schuh aus der gesamten Aktion machen könnte. Fügen wir dann noch eine Nummer in die Sonic-Adventure-Serie – das aktuelle Album von Madeon heißt schließlich auch Adventure – dann erhalten Sonic-Spieler in Bälde einen ersehnten dritten Teil.
Virales Marketing New-Sonic-Style – well done!