Videobeweise für die Funktionalität.
Nintendo ist immer wieder für eine Überraschung gut. So verkaufte sich beispielsweise das körperbewusste Ring Fit Adventure in Japan mittlerweile besser als The Legend of Zelda: Breath of the Wild im Land der aufgehenden Sonne, obwohl Prognosen von Analytikern letzter genanntem Reihe in der Zukunft die größten Erfolgsaussichten voraussagen. Auch geht Big-N gern einmal andere Wege und mischt derzeit mit Mario Kart Live Home Circuit die Realität mit Computerspielen. Die recht teure Angelegenheit ist eine kleine Besonderheit, da man mit ferngesteuerten Autos durch virtuelle Strecken fahren kann und ein typisches Mario-Kart-Erlebnis im Wohnzimmer austrägt. Ein Youtube-Channel hat nun eine Strecke aufwendig gestaltet und zeigt den kreierten Mario Kart Live Home Circuit Track in Videoform, um die Funktionalität des Konzeptes vorzuführen.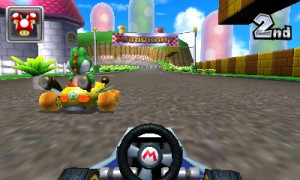 Foto: Nintendo
Mario Kart klappt nun auch im Wohnzimmer – hier noch 3DS.

Über 250 Euro müssen zwei Switch-User investieren, wollen sie gegeneinander Mario Kart Live Home Ciruit in den eigenen vier Wänden zocken. Ein Paket, das ein Kart sowie einige Pappaufsteller bietet, ist somit nicht günstig. Dennoch scheinen sich viele Menschen damit abzufinden, derartige Preise zu bezahlen, um auf ihren Switch-Systemen ein neues Erlebnis mit Mario Kart erleben zu können. Das Team von Gaming Boulevard hat sich in Unkosten gestürzt und einen aufwendigen Track gestaltet, mit dem man den Zuschauern beweisen möchte, wie gut das Konzept funktioniert.

Ein Mario Kart Live Home Circuit Track mit schicker Yoshi-Thematik.
Mit viel Liebe zum Detail und sogar mit Unterführungen bestückt, kommt die Strecke im Yoshi-Design daher. Die Nutzer der Augmented-Reality-Software rasen über sie in der Cockpit-Perspektive hindurch und machen sich dank typischer Items gegenseitig das Leben schwer. Auffällig ist, dass das Gezeigte den Versprechen entspricht, kleine Stottereinlagen in der Übertragung sind aber sichtbar. Hier ist nicht klar, ob es sich um die Aufnahme handelt, oder ob die Bildaussetzer auch während des gewöhnlichen Spielens auftreten. In jedem Fall zeigt das Video, dass man seiner Kreativität keine Grenzen zu setzen hat, baut man eine Strecke für Mario Kart Live Home Circuit. Höchstwahrscheinlich geht daher auch der Plan Nintendos auf, während der kommenden Festzeiten einen bleibenden Eindruck zu hinterlassen, obwohl zeitgleich zwei neue High-End-Konsolen auf dem Markt erscheinen werden – zum doppelten Preis als zwei Pakete des bekannten, aber doch ganz neuen Rennspiels.
Abgefahren!