Zauberhafte Einblicke.
Der Plattformer Ori and the Blind Forest war während der E3 Präsentationen 2014 wohl das schönste Spiel auf der gesamten Messe. Es geschieht schließlich nicht alle Tage, dass ein kurzer Trailer, der ein handgezeichnetes 2d-Spiel zeigt, neben einer wohligen Gänsehaut auch einen tiefen, bleibenden Eindruck hinterlässt.
Gestern veröffentlichte Microsofts Xbox-Team neue zauberhafte Einblicke, in dem folgenden Spiele-Film.
Ein neuer Ori Trailer.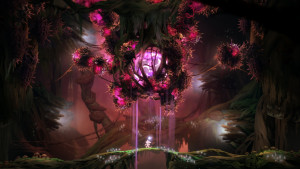 Foto: Microsoft
Xbox bekommt ein herzerwärmendes Spiel – Ori and the blind Forest.

Gerade wenn man schon weiß, dass einen erneut emotionale Bilder und ansprechendes Gameplay erwarten, erstaunt es bei dem neuen Ori Trailer um so mehr, dass die Haare auf der Haut erneut strammstehen und eine frische Gänsehaut fabriziert wird.
Castleroid/Metroidvania-Spieler dürfen sich auf ausgiebiges Erforschen sowie auf das Meistern der kniffligen Aufgaben freuen; visuell erwartet Kunstfreunde dagegen ein buntes, detailverliebtes wie stimmiges Werk, das sich bei Erscheinen mit den Größen des Genres messen dürfte.
Sollte über einen ansprechenden Zeitraum das erneut an den Tag gelegte Stimmungs-Niveau gehalten werden, könnte Ori and the blind Forest sogar schon bald nach der Krone des schönsten 2d-Jumpers greifen dürfen.
Auf Xbox One und PC ab dem 11.März – 360-Spieler gedulden sich noch etwas.
Ein Glücksgriff.