Zelda BotW ebenfalls auf Switch in VR.
Es sind schon bemerkenswerte Entwicklungen, die Nintendo mit dem Pappmascheekonzept Labo auf die Zocker loslässt. Nun erweitert der Switch-Hersteller schließlich sein tragbares Heimgerät um VR-Funktionen auf kostengünstigem Wege und bringt zusätzlich seine Superstars in die Virtuelle Realität. Neben The Legend of Zelda: Breath of the Wild wird auch Mario Odyssey ein Update erhalten, dass das Labo-VR zum Einsatz kommen lässt. Mario Odyssey in Virtual Reality ist damit keine Fantasie mehr.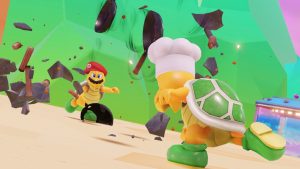 Foto: Nintendo
Zelda und Mario in VR auf Switch – Wow!

Nur durch ein kleines Twitter-Posting informierte der bekannte japanische Konzern Nintendo über die kommenden Updates für Super Mario Odyssey und The Legend of Zelda: Breath of the Wild, die beide Spiele für den Einsatz in der Virtuellen Realität bereit machen. Während Mario Odyssey nur einige kleinere Aufgaben für VR erhalten soll, wird das erfolgreiche Zelda-Spiel wohl vollkommen via Labo-VR spielbar sein, was einen nicht zu verachtenden Schritt für Zelda, Switch und Nintendo darstellt. Abzuwarten bleibt, inwieweit sich der aus Pappe bestehende Aufsatz ohne Halterung für den Kopf längerfristig einsetzen lässt, doch eindeutig klar dürfte sein, dass Mario und Link aus The Legend of Zelda einen besonders großen Zugfaktor besitzen, sodass Big-N hier ordentliche Schubkraft auf das Labo-Konstruktions-Kit und die Konsole im Allgemeinen ausüben wird. Eine Menge Menschen werden ausprobieren wollen, ob Nintendo mit diesem Schritt es endlich schaffen kann, Virtual Reality in der großen Masse ankommen zu lassen. Mit dem Multitalent Mario und dem Haupthelden Link könnte bezüglich dieser Frage zumindest die Zielgerade angepeilt worden sein.
Überraschenderweise!