Frei für Mitglieder im September.
Seit dem Start der Playstation4 Ende 2013 bezahlen Spieler für die Online-Play-Komponente zwingend Gebühren. Dafür bekommen diese sogenannten Playstation-Plus-Mitglieder jeden Monat bereits erhältliche Spiele gratis via Download serviert, die sie während ihrer bestehenden Mitgliedschaft nutzen können. Während die Playstation3 hier regelmäßig verfügbar gemachte Tripple-A-Titel bot, war das Angebot auf PS4 bisher eher karg und unzureichend.
Lords of the Fallen bei Playstation Plus im September ändert dies nun erstmalig.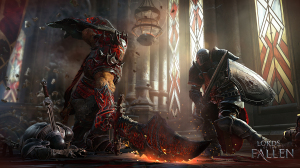 Foto: Kochmedia
Bloodborne für Arme – Lords of the Fallen über PS+.

Der offizielle Playstation Blog informiert die Gefolgschaft heute, dass am 06. September der nächste Schwung an "Gratis-Spielen" für alle Playstation-Plus-Mitglieder verfügbar gemacht wird.
Die PSVita-Fraktion erhält Badland und Amnesia: Memories. Playstation3-Spieler bekommen Datura, ebenfalls Badland und den Ubi-Soft-Spaß Prince of Persia: The Forgotten Sands.
Auf PS4, die sich lange Zeit nur mit kleineren Indie-Perlen oder Indie-Schund als Game-Geschenk abgeben musste, dürfen die Spieler endlich in einen jungen Klassiker tauchen: Journey ist Teil des Paketes. Mit Lords of the Fallen, einen ehemaligen Vollpreistitel, erfahren die PS4-User erstmalig eine Gleichbehandlung in der Auswahlkategorie "Preisklasse." Badland wird auch hier verschenkt.
Die genauen Infos über den kommenden Dienstag erhalten Interessierte über den offiziellen Playstation Kanal.
Ob das aktuelle Umdenken in der Spielauswahl von Dauer ist, darf vorerst bezweifelt werden. Playstation Plus bleibt weiterhin eine Katz im Sack.