J-Junk Undercover
Die auf japanische Pop-Kultur spezialisierte Fan-Seite J-Junk war nach langer Zeit erneut in Japan unterwegs.
Die Sehnsucht nach den dort beheimateten Anime-Girls und echten Spielotheken – besser gesagt japanischen Arcades – trieb das Team, um Idolmeister und Matsumoto, wohl auf die weit entfernte Insel der Videospiele, sowie zu einem etwas gewagten Spionage-Akt.
J-Junk Undercover – japanischen Arkaden zum Anschauen abgefilmt.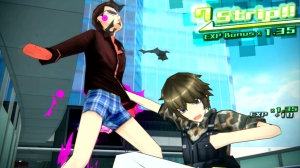 Foto: NIS America
Core to the Hardcore, ist das Motto von J-Junk.

Da Aufnahmen in japanischen Arcades aber anscheinend nicht gerne gesehen werden, nutzte das tollwütige J-Junk Team eine GoPro-Kamera, die – eingenäht in ein Kleidungsstück – keine Aufmerksamkeit erregte.
So konnte ein Mitschnitt angefertigt werden, der uns die aktuelle Lage der japanischen Spielhallen unerlaubt etwas näher bringt. Bemani, Card-Games, Pachinko – sad but true – doch auch vereinzelte Klassiker, lassen sich während der satten halben Stunde in First-Person-View erblicken.
Vorsicht: Motion-Sickness Gefahr.
Dass der Klimax der Spielhallenerfolge, leider bereits längst überschritten wurde, lässt der Autor in seinem interessanten Artikel "Japan Arcade Tour" daher ebenso vom Stapel, wie weit tiefergreifende Informationen über das dort Erlebte; weshalb ein Leseausflug auf J-Junk.de nicht schaden sollte.
Selbst sehr neugierige Spieler können hier noch das eine oder andere Wissenswerte über beliebte Spiele-Serien in Erfahrung bringen, von denen der Westen bisher noch gar nichts wusste und wohl in manchen Fällen auch gar nicht wissen wollte.
Pachi Castlevania III? Super Mario Bros. Wii Coin World Arcade? Fatal Fury Premium Pachinko?
Was es alles gibt…
…die spinnen, die Japaner.