Art of Fighting zum Anhören auf CD und Vinyl.
Das NeoGeo von SNK hat heute noch eine ganz besondere Stellung unter den bisher erschienenen Videospielsystemen. Der Rolls-Royce unter den Konsolen kostete ordentlich Geld, dafür waren die noch teurer wirkenden Spiele direkte Ein-zu-eins-Versionen aus den Spielhallen. Neben grafischer Hochkultur bot das NeoGeo auch bombastischen Sound, schon bevor CD-Spieler die musikalische Untermalung übernahmen. Nun erscheinen nach einem bereits erschienenen Remake des Systems NeoGeo-Sammlerstücke zum Zuhören für Fans auf CD und Vinyl nachträglich, damit in Ruhe in Erinnerungen geschwelgt werden kann. SNK und Brave Wave bringen NeoGeo OSTs.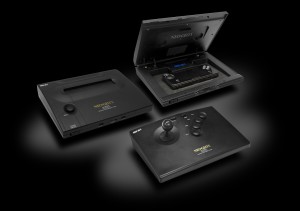 Foto: Tommo
NeoGeo bekam bereits 2012 ein Switch-Update als NGX…

Brave Wave ist ein japanisches Plattenlabel, das die Zusammenhänge von Videospielen, Musik und Nostalgie erkunden möchte. Aus diesem Grund arbeitet das kleine Label mit bekannten Komponisten der Vergangenheit zusammen und veröffentlicht deren gelungene musikalische Ergüsse in Sammlerstücken auf CD und Vinyl. Nun hat Brave Wave eine Partnerschaft mit SNK bekannt gegeben, die auf eine längerfristige Zusammenarbeit hindeutet. Man wolle zuerst mit der Restauration des Soundtracks der Art-of-Fighting-Serie beginnen, bis im nächsten Jahr möglicherweise weitere Veröffentlichungen in Angriff genommen werden sollen. Von Art of Fighting bis AoF3 sollen nun erst einmal in einzelnen Releases CDs und Schallplatten für Sammler von Videospielmusik hergestellt werden, die über den Shop von Brave Wave wohl bald online erworben werden können. Auch da Art of Fighting im Jahr 1992 erstmalig auf dem NeoGeo-Gerät erschienen ist, will man mit der Huldigung des Soundtracks das 25-jährige Geburtstag entsprechend zelebrieren. Im Oktober wird die Veröffentlichung der ersten Scheibe erwartet, während die beiden folgenden erst in der ersten Hälfte des kommenden Jahres anstehen. Die Musik der Games wird laut Brave Wave für die Game Series immer in der höchstmöglichen Qualität restauriert und bei der jetzigen Produktion mittels enger Zusammenarbeit mit SNK sowie den original Komponisten des Neo Sound Orchestras auf den optimalen Sound gehoben.
Haow-ken!