Gerüchte um Mitarbeit des King of Pop sind wahr.
Schon seit einigen Jahren kursierten Gerüchte über mögliche Michael-Jackson-Musikstücke in Sonic 3 auf Sega Mega Drive.
Da der japanische Konzern schon in der Vergangenheit sowie der folgenden Zukunft immer wieder mit dem tanzenden Idol zu tun hatte, galt eine musikalische Mitarbeit an Sonic 3 lange für möglich.
Nun wurden die Gerüchte über die Mitarbeit des King of Pop etwas aufgeklärt.
Sonic 3 spielt Michael Jackson.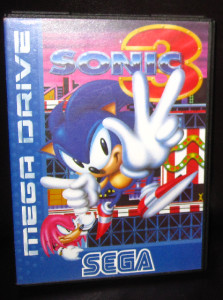 Foto: mze
Nun ein begehrtes MJ-Sammlerstück? Sonic 3 von Sega.

Ein bekennender Fan des Sega-Maskottchens und des bekannten Popstars deute bereits Mitte der neunziger Jahre, dass an der Musik seines Lieblingsspiels Sonic 3 irgendetwas anders klänge.
So begann er – während den Anfängen des Internets – Musik zu vergleichen und Recherche zu betreiben, bis er in einem Forum die Ähnlichkeiten zwischen Jacksons Song "Jam" vom Album "Dangerous" und der Sonic 3 "Carnival Night Zone" erwähnte.
Nach Sonic-Fans typischen Email-Lawinen und vielen Versuchen ein Stück näher an die Wahrheit zu gelangen, fiel auch anderen Sonic-Fans eine gewisse Nähe der Musik zu Jacksons Stil auf.
So klänge die Untermalung des ablaufenden Abspanns in Sonic 3 dem Song "Stranger in Moscow" von Jackson sehr ähnlich.
Die Huffington Post veröffentlichte nun einen zusammengefassten Ablauf der gesamten Geschichte, der wenig Zweifel an der damaligen Zusammenarbeit Jacksons und Segas lässt. Drei damalige Mitarbeiter Jacksons – und genannte Musiker im Abspann des Spiels – sprachen dort Tacheles.
"Buxer, Grigsby and Jones tell The Huffington Post that Jackson worked with them on a soundtrack for Sonic 3 — and that the music they created with Jackson ended up in the final product.
"It was really, really, really cool how they put what we did together in there," Grigsby says."
Gegen diese Annahmen sprachen immer die Gerüchte, die behaupteten, Sega hätte aufgrund der aufkeimenden Skandale um Michael Jackson dessen Werke nicht verwertet.
Doch nach Aussage der im Spiel erwähnten Komponisten heißt es nun eindeutig, dass Michael Jackson nicht mit der Qualität der Mega-Drive-Chiptunes im Endergebnis zufrieden gewesen sei und deshalb seinen Namen aus Sonic 3 entfernen ließ – die Songs jedoch blieben.
Hätte er doch etwas länger auf Sonic-CD gewartet…