Ein Dungeon Crawler fürs MD von Fans.
Das Mega Drive von Sega ist bei Hobbyprogrammieren sehr beliebt. Immer wieder erscheinen daher kleinere Projekte auf dem 16-Bit-System, welche der fast dreißig Jahre alten Spiele-Maschine neue Anziehungskraft verschaffen. Nun hat erneut ein kleines Team um den Programmierer Matteus Beus die Veröffentlichung eines Genesisgames auf Cartridge in Angriff genommen und hofft auf etwas Unterstützung aus dem Kreis der Sega Freunde. Schließlich ist Crypt of Dracula für Mega Drive in der Mache und wartet nur auf einen Release.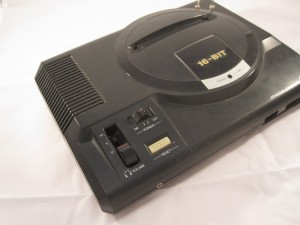 Foto: mze
Segas Mega Drive wird im Oktober 30 Jahre alt – neue Spiele kommen.

Unter dem Label Pixel Pusher produziert Matteus Beus Crypt of Dracula, das ein düsteres Abenteuer für Spieler alter Schule darstellt. Ein einsamer Wanderer traut sich in die Labyrinthe des Schlosses Dracula auf der Suche nach dessen sagenumwobenen Schatz. Natürlich stellen sich Kreaturen der Nacht in den Weg des mutigen Mannes, der nur mit viel Verstand die gefundenen Gegenstände dazu einsetzen kann, sein Ziel lebendig zu erreichen. Orloks und Nosferatu, Werwölfe und anderes Viehvolk der Hölle versuchen diesen angesprochenen Ausgang der nur kurz angeschnittenen Geschichte mit martialischer Gewalt, Magie und Tricks auf schnellstem Wege zu verhindern

Einfaches Gameplay kann auch mal überzeugen – Fantasie hilft.
Um das stimmungsvolle Retro-Grusel-Game in der finalen Fassung auf Mega-Drive-Modul zu bannen, streben die Beteiligten wohl eine Finanzierung durch die Crowdfunding-Plattform Kickstarter an, über die auf diesen Seiten dann selbstredend zeitnah berichtet werden wird.
Dracula ist schließlich ein alter Freund der Familie …