Titel der Mini-PSX bekannt gegeben!
Mit der Playstation Classic stapft Sony Interactive Entertainment erneut in die Fußstapfen anderer Hersteller. Zu Weihnachten möchte SIE ähnlich Nintendo, Sega oder SNK mit alten Erinnerungen etwas Geld verdienen und veröffentlicht eine verkleinerte Version der allerersten PSX-Konsole. Bislang wurden nur fünf der vorinstallierten Spiele genannt, doch gestern wurde via Trailer und offizieller Ankündigung der Schleier gelichtet, was die restlichen 15 enthaltenen Playstation-Klassiker betrifft. Die zwanzig Spiele auf der Playstation Classic sind bekannt gegeben worden.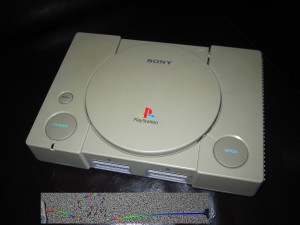 Foto: mze
Ab Winter in winzigem Format – Playstation 1 von Sony.

Auf dem deutschsprachigen Playstation-Blog nannte man seitens Sony die auf Playstation Classic verewigten Spiele, welche nach Meinung des Herstellers wohl die beste Wahl aus über 4000 erhältlichen Games für das alte System darstellen. Voila:
Battle Arena Toshinden
Cool Boarders 2
Destruction Derby
Final Fantasy VII
Grand Theft Auto
Intelligent Qube
Jumping Flash!
Metal Gear Solid
Mr. Driller
Oddworld: Abe's Oddysee
Rayman
Resident Evil™ Director's Cut
Revelations: Persona
Ridge Racer Type 4
Super Puzzle Fighter II Turbo
Syphon Filter
Tekken 3
Tom Clancy's Rainbow Six
Twisted Metal
Wild Arms

Pal- & US-Releases auf dem Pal-Release
Die japanische Version bietet hingegen einige andere Spiele, welche erneut wehmütig gen Osten schielen lassen:
Arc the Lad
Arc the Lad 2
Armored Core
Battle Arena Toshinden
Devil Dice (aka XI [sai])
Final Fantasy 7
G Darius
Gradius Gaiden
Intelligent Qube
Jumping Flash!
Metal Gear Solid
Mr. Driller
Parasite Eve
Persona
Resident Evil
Ridge Racer Type 4
SaGa Frontier
Super Puzzle Fighter 2 Turbo
Tekken 3
Wild Arms

Die japanische Fassung der PSX-Classic bietet immerhin zwei Shmups!
Aufgrund der limitierten Wahl und Anzahl der Titel – über die Hälfte sind im Playstation-Network für PS3 und PSVita zu erwerben – ziehen selbst eingefleischte Sony-Fans oft ihre Vorbestellungen zurück, was man global in verschiedenen Videospielforen mitverfolgen konnte. Wie funktional die gesamte Konsole am Ende an modernen HD-TVs einsetzbar ist, wird sich auch erst im Praxistest bei den übrig bleibenden Überzeugten überprüfen lassen. Ein Mini erwirkt noch kein "Classic!".