Video aus 1999 zeigt Entstehung.
Gestern jährte sich der Sega Dreamcast Release von Shenmue in den Vereinigten Staaten.
Vor 15 Jahren erschien das Meisterwerk Yu Suzukis erstmalig übersetzt und sorgte für ein derartiges Staunen, dass dessen Spieler die überraschend stattfindende Fortsetzung der Reihe Ende 2017 noch immer kaum fassen wie erwarten können.
Aufgrund des Jubiläums wurde nun eine japanische TV-Show über verschiedene Kanäle veröffentlicht, die zum Ende des letzten Jahrtausends die Entstehung der bahnbrechenden Reihe im Fernsehen beleuchtete.
The Making of Shenmue.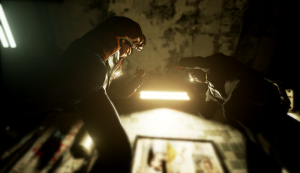 Foto: Ys Net
Shenmue III Testscreens – Herstellungsdokumentation.

Die erste Episode der Dokumentation "Network Jungle III" wurde bereits über den Sender NHK BS2 am zwölften Juli 1999 ausgestrahlt, doch erst jetzt kann man den circa einstündigen Bericht dank fleißiger Übersetzer erstmalig in verschiedenen Sprachen ansehen.
Untertitel in Deutsch, Französisch, Englisch und Spanisch werden über Youtube angeboten.
Dabei wird in der Doku auch der gesamte Videospiele-Markt dieser Zeit beleuchtet, was Nostalgikern ebenso gut gefallen dürfte wie den wartenden Unterstützern der Shenmue III Kickstarter-Kampange.
Yu Suzuki – Mastermind hinter vielen Sega-Klassikern – wurde ein halbes Jahr lang von dem Network-Jungle-III-Kamera-Team begleitet, was somit einen detaillierten Einblick in die Entstehungsgeschichte des besonderen Videospiel-Meilensteins Shenmue ermöglicht.
Keep friends, those you love, close to you.
Alternative Video-Links:
Eine haptische Version von Shenmue III absichern kann man über: http://shenmue.link/order/