Trevor Philips Industries
Was der ArabGamer heute und ganz frisch im Internet aufgestöbert hat, könnte Next Gen Spieler, aber vor allem PC-User happy machen.
Auf einer tschechischen Verkaufsplattform sind die Next-Gen-Versionen von Grand Theft Auto V aufgetaucht und auf einen Veröffentlichungstermin im Juni angesetzt.
GTAV Next Generation.
Vorbestellen könne man bereits.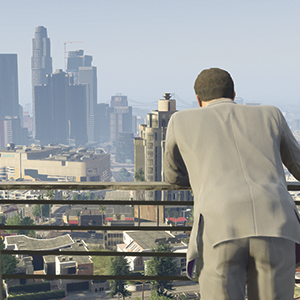 Foto: Rockstar Games
Schaut in eine goldene Zukunft. Micheal aus GTAV.

Im angehängten Youtube Video von VGSTATIONS soll der Wahrheitsgehalt der Meldung etwas untermauert werden.

Dass man aber nicht alles glauben muss, was durch Händler ins Internet gestreut wird, zeigt das aktuelle Beispiel eines Mitarbeiters eines Gamestores in Kanada. Dort wurde zum Scherz eine gefälschte Verpackung im Laden ausgestellt, die The Legend of Zelda: The Windwaker HD für die PS4 anprieß.
Was somit trotz beider, mit Vorsicht zu genießenden Informationen, jetzt eigentlich doch wieder nur zu der Frage nach echter, neuer Software führt.
Bloße Remakes auf neuen Konsolen, die nur an der Grafikschraube drehen, sind nicht der notwendige Fortschritt den das Medium nach sieben Jahren Harwarestillstand gehen muss.
Stag-Nation; nicht nur in San Andreas.