Passend zum heutigen Filmstart im Kino.
Heute ist Lara Croft Day, wenn man die Veröffentlichung des neuen Kinofilms am heutigen Datum im Zusammenhang mit einer von SquareEnix verschickten Nachricht verknüpft. Während Alica Vikander hierzulande erstmalig die reiche Grabräuberin in Lichtspielhäusern mimt, wurde überraschend das Datum für einen Nachfolger von Rise of the Tomb Raider verraten und mit einem kleinen Teaser-Trailer versehen. Shadow of the Tomb Raider erscheint im September.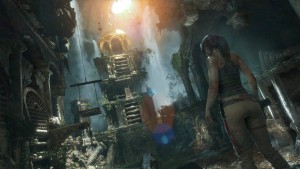 Foto: SquareEnix
Die Stilikone der weiblichen Spielcharaktere – Lara Croft.

Ähnlich viel Arbeit wie die schwedische Hauptdarstellerin des neusten Tomb-Raider-Kinofilms in ihren Körper hat stecken müssen, hat das Team von Eidos Montreal wohl auch investiert, um nun den dritten Tomb-Raider-Teil nach zwei superben Produktionen von Crystal Dynamics auf hoffentlich ähnlichem Niveau produzieren zu können.

Acient Aztec Architecture im neuen Shadow of the Tomb Raider.
Anstatt auch wie in den vergangenen beiden Vorgängern erst einmal exklusiv auf Microsofts Xbox-One-Systemen zu erscheinen, wird am 14. September von Lara Croft in Shadow of the Tomb Raider die gesamte aktuelle Spiele-Maschinen-Palette bedient werden.
Nur der Nintendo Switch "noch" nicht …