Nachdem Walmart E3-Geheimnisse verriet.
In der letzten Woche wurde durch eine unvorsichtige Veröffentlichung auf den Seiten von Walmart-Kanada die Gerüchteküche angeschaltet, was bisher unbekannte Videospieltitel betraf. Kurz vor der großen Gaming-Messe in L.A. war von der Spielergemeinde vermutet worden, dass ein bekannter Händler vielleicht doch an handfeste Infos gekommen war, die dieser unachtsam im Netz verbreitet haben könnte. Nun hat der erste Publisher mit den versehentlichen herausgegebenen Infos gearbeitet und sein Spiel vorgestellt, das sich tatsächlich in der Entwicklung befindet. Rage 2 ist angekündigt worden.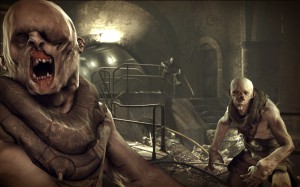 Foto: Bethesda
Rage hatte ein schönes Setting und bot gute Action.

Rage machte zum Relase vieles richtig; eine fast offene Welt wurde geboten, Automobile konnten gefahren werden und Mutanten wurden mit Shotgun-Patronen die Hirnhälften vom Körper getrennt. Dennoch kam Rage nur bedingt bei der Spielerschar an, was Bethesda nun aber offensichtlich nicht daran hindert, mit einen zweiten Teil erneut in die atomar verseuchte Wüste zu ziehen. Aufgrund der kochenden Gerüchte konnte man wohl nicht länger warten und stellte Rage 2 offizielle vor – mit Ankündigungs-Trailer.

Rage 2 scheint wohl auf Multiplayer ausgelegt – schaun mer mal.
Erste Infos sind auch schon vorhanden, die davon ausgehen lassen, dass man besonders an der offenen Welt arbeitete und dafür extra ein anderes Entwicklerteam an Board geholt hat. Da sich die nun von Bethesda beauftragten Avalanche Studios schon bei der Versoftung von Mad Max mit Wüstenlandschaften und Automobilen beschäftigten, klingt ein Griff nach diesem Team nach einer guten Wahl. Morgen um 16: Uhr plant Bethesda schon weitere Details bekannt zu geben und den ersten Gameplay-Trailer freizuschalten
Welcome back to the Thunderdoom!