Wovon Geldgeier träumen
Erneut meldet sich ein größerer Aktien-Besitzer aus Asien an Nintendo, um diese zum Anschlag auf die Mobile-App-Märkte anzuhetzen.
Gibt es daher bald Nintendo on the phone?
Seth Fisher, einer der bekanntesten Hedge-Fond-Manager Asiens, der für die Oasis Management Co Ltd tätig ist, schrieb schon im vergangenen Juni mit ähnlichen Anliegen an den japanischen Konsolenhersteller und versucht laut Reuters nun noch einmal, das Geschäftsfeld Nintendos von den eigenen Spiele-Maschinen, auf alle erdenklichen Smart-Devices zu erweitern.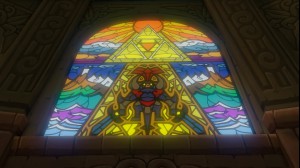 Foto: Nintendo
Sakrale Gemälde wie aus dem Wind Waker, gehören auf heimische Mattscheiben und physische Medien gebannt.

Nintendo besäße nach Seth Fishers Aussagen das größte Portofolio an Casual Games ("… arguably the largest library of casual games …") mit denen sie erfolgreich die Mobilen-Plattformen entern könnten, weshalb sie sich nicht länger vor der veränderten Nachfrage auf einem veränderten Markt verwehren dürften, wenn sie als Firma weiterhin bestehen möchten.
Mittels Gaming-Apps à la Candy Crush Saga, könne man schließlich bis zu fünf Millionen Dollar am Tag generieren.
Wie ein NeoGAF User passend dazu schreibt, sind Handy Games jedoch das kreative Equivalent zu Krokodilleder-Schuhen, was den bitteren Beigeschmack des eigentlichen Gedankengangs nicht nur für Spieler leichter verständlich machen sollte.
Spiele-Maschine.de fügt hinzu, dass Nintendo doch auch weit weniger durch "Casual Games" bekannt wurde –deren Existenz der Konzern zwar mitbegründete– als durch legendäre Spiele auf legendären Systemen. Aus eigener Herstellung, auf eigenem Pfad.
"Don´t call us, we´ll get back to you", wäre daher wohl die passende Antwort auf einen Brief, der einen Konzern wie Nintendo erneut zur Prostitution auffordert.