Ende vorm Anfang
Das Sony Santa Monica Studio, welches durch die Entwicklung der God of War Serie bekannt wurde, sollte ursprünglich drei neue Titel für die Playstation4 von Sony entwickeln.
Nun, noch bevor eines der neue Games offiziell mit einem Namen versehen wurde, zog Sony den Stöpsel der ersten in Entwicklung befindlichen Produktion.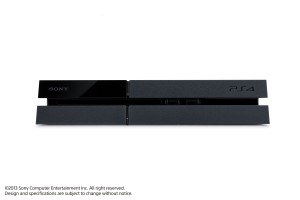 Foto: Sony
Verliert neue Spiele – Sony möchte lieber Altbewährtes.

Neue Marken sind, wenn man die Kommentare des Indie Entwicklers Jonathon Blow in Erwägung zieht, für anzugtragende Finanzgeber und Entscheider wohl nicht stark genug wie finanziell zu unsicher, weshalb man lieber auf Bewährtes setze. In einer nächsten Begegnung wolle er einen dieser Anzugträger nach einer erfolgreichen Marke fragen, die nicht auf einem Erstling basiere.
50 Arbeitnehmer, die anscheinend an einer eigenständigen Open-World Science Fiction Idee werkelten, verloren durch den Entwicklungsstopp ihren Job.
Die Playstation4 eine Ankündigung eines neuen Titel, der ihr im Moment sicherlich auch nicht schlecht zu Gesicht stehen würde.
Denn nicht nur Software-Veröffentlichungen, auch deren Ankündigungen schienen selbst zu Playstation-Urzeiten häufiger.
So warten die Early Adopter der neuen Sony Spiele-Maschine halt weiterhin auf den seit mindestens 2007 in Entwicklung befindlichen Nachfolger des ICO/SOC Entwickler-Teams "The Last Guardian", der ihnen damals eigentlich schon für das vorangegangene Playstation Model versprochen wurde.
God of War Fans müssen sich dagegen wohl erst einmal nicht sorgen.
Nur weiterhin warten.
Der auch einst erst erfolgreich aufgebaute, brutale Grieche Kratos, werde wohl von einem der weiterhin engagierten Santa Monica Teams tatsächlich für die Playstation4 entwickelt, was ein Insider auf Gearnuke.com spekulativ hinausposaunt.
Dabei dachten Sammler, dass nach den drei unterschiedlichen Veröffentlichungen der God of War Collectors Editions (Ultimate, Master, Omega), denen in jedem Sammlerpack doch jetzt schon immer mindestens ein Teil fehlte, die alte Playstation2 Erfolgsgeschichte mit Teil 4 auf der PS3 zu Ende geschrieben worden sei.