Indiana Jones und neue Star-Wars-Partnerschaft.
Eigentlich hatte man gedacht, dass Electronic Arts der Hausentwickler Disneys geworden war, nachdem der Mickey-Mouse-Konzern sich Lucasfilm unter den Nagel riss. Seit 2012 ist kein Star-Wars -Titel mehr von anderen Entwicklern als von denen des großen Publishers erschienen, sodass davon auszugehen war, dass die Marke an EA gebunden wurde. Nun haben sich aber Veränderungen ergeben, wie neuste Nachrichten verlauten lassen. Zum einen wird ein Open-World-Videospiel im bekannten Lucas-Universum von Ubisoft produziert werden, zum anderen erteilte man MachineGames unter der Leitung von Bethesdas Todd Howard den Auftrag, ein neues Game rund um den Charakter Indiana Jones zu kreieren. Lucasfilm Games schlägt zurück.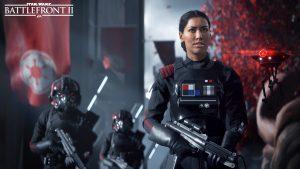 Foto: EA
Star Wars stand lange mit EA in Verbindung – nimmermehr.

In den frühen Achtzigerjahren des letzten Jahrhunderts stand Lucasfilm Games – später Lucasarts – hoch in der Gunst der Gamer. Spiele wie Rescue on Fractalus, The Eidolon, Maniac Mansion oder Zack McCracken sorgten für hochwertige Unterhaltung und brachten das Medium Videospiele weiter. Besonders beliebt waren aber natürlich Spiele, die sich auf bekannte Marken des Lucas-Imperiums stützen und Helden der bekannten Hollywood-Filme zeigten. Gerade die Indiana-Jones-Franchise wurde intelligent genutzt und in ein Point & Click-Adventure verwandelt, doch nach The Fate of Atlantis war diesbezüglich Schluss. Es erschienen zwar noch weitere Videospiele rund um den Archäologen und Abenteurer, doch die einstige Größe konnte nicht mehr erreicht werden. Nun hat man aber überraschend die Ankündigung gemacht, dass sich ein neues Spiel mit Indiana Jones bei MachineGames in der Entwicklung befindet und Todd Howard an den Arbeiten beteiligt ist. Ebenso hat es sich ergeben, dass Ubisoft die Rechte erhalten hat, an einem neuen Krieg-der-Sterne-Spiel arbeiten zu dürfen. Hier sollen Teams der The-Devision-Entwickler von Massive Entertainment involviert werden, um ein actionreiches Open-World-Spiel zu produzieren. Dies überrascht insgesamt, da es seit acht Jahren keine Entwicklung mehr bezüglich dieser Marke gab, die nicht aus dem Hause EA kam. Doch wie Sean Shoptaw, der Senior Vize Präsident von Global Games und Interactive Experiences von Disney berichtete, gäbe es mittlerweile wieder Raum für andere Entwickler, die ein entsprechendes Konzept vorbrächten. EA würde zwar weiterhin als wichtiger und strategischer Partner gesehen werden, doch man fühlte, dass es an der Zeit wäre, auch andere Firmen ihr Glück versuchen zu lassen.
Inwieweit hier die schlechten Erfahrungen bezüglich EA Star Wars Battlefront II sowie dem nicht vollendeten Star Wars 1313 mit diesen Tatsachen zusammenhängen, kann nur vermutet werden. Mit der Rückkehr von Indiana Jones und neuen Möglichkeiten für die Star-Wars-Saga ist jedoch ein wichtiger Schritt für Spieler und Hersteller von Videospielen getan.
Lucasfilm Games schlägt zurück!