Ein Haufen heißer Software!
Mini-Konsolen sind weiterhin groß im Rennen. Nintendo konnte mit NES- und Snes-Mini derartig Interesse bei der Kundschaft kreieren, sodass neben Sony- und Sega-Systemen selbst alte Homecomputer wieder auferstehen konnten. Nun hatte zuletzt auch Konami – welche die Rechte an der Achtzigerjahre-Spiele-Maschine von NEC erwarben – angekündigt, dass man die PC-Engine wiederbeleben werde. Das wunderbare Bitmap-Grafik produzierende Gerät erscheint nach neusten Meldungen am 19.03.2020 und wird einen Haufen heißer Software in sich beherbergen, sodass Freunde feinster Retrogames sich bereits im Vorfeld die Hände reiben dürften. Nachdem das Lineup der PC-Engine mini bekannt gegeben worden ist, scheinen viele Wünsche erfüllt.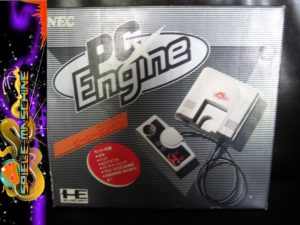 Foto: mze
PC-Engine rockt im nächsten Jahr HD-TVs!

Offensichtlich einzig über Amazon wird die PC-Engine mini zu erstehen sein, sodass ein Besuch beim Online-Händler anscheinend zwingend wird, will man in den Besitz der neuen Core Grafx oder TurboGrafx-16 gelangen. Dies dürfte für viele Retro-Zocker jedoch nun zum Herzenswunsch geworden sein, nachdem die enthaltenen Spiele des Systems bekannt gegeben wurden. Anscheinend hat man sich bei Konami viele Gedanken gemacht, welche Software auf der Kiste zu schlummern hat, damit die Mini-Version der PC-Engine zum Verkaufshit mutieren kann. Amazon Prime Kunden dürfen die PC-Engine mini ab dem 15.07.2019 vorbestellen – reguläre Nutzer müssen sich noch ein wenig länger gedulden.

Lineup der PC-Engine-Mini bekannt gegeben!
Da sich insgesamt 50-Titel auf der Mini-Konsolen befinden, von denen der Großteil tatsächliche Highlights darstellen, könnte besonders in Europa ein Hype entstehen, weil das ursprüngliche Gerät niemals offiziell hierzulande gehandelt worden ist. Somit kommen viele Spieler erstmalig in den Genuss echter Engine-Games, von denen einzelne Spiele auf dem Gebrauchtmarkt teils mehrere Hundert Euro kosten. Das Lineup der PC-Engine mini enthält schließlich folgende
TurboGrafx-16 Titel:
Air Zonk
Alien Crush
Blazing Lazers
Bomberman '93
Bonk's Revenge
Cadash
Chew-Man-Fu
Dungeon Explorer
J.J. & Jeff
Lords Of Thunder
Military Madness (Nectaris)
Moto Roader
Neutopia
Neutopia II
New Adventure Island
Ninjaspirit
Parasol Stars
Power Golf
Psychosis
R-Type
Soldier Blade
Space Harrier
Victory Run
Ys Book I&II
und diese PC-Engine Spiele:
Akumajō Dracula X Chi No Rondo (Castlevania: Rondo Of Blood)
Aldynes
Appare! Gateball
Bomberman '94
Bomberman Panic Bomber
Chō Aniki
Daimakaimura (Ghouls 'N' Ghosts)
Dungeon Explorer
Fantasy Zone
Ginga Fukei Densetsu Sapphire
Gradius (Nemesis)
Gradius II – Gofer No Yabō (Nemesis II)
Jaseiken Necromancer
Nectaris (Military Madness)
Neutopia
Neutopia II
Ninja Ryūkenden (Ninja Gaiden)
PC-Genjin (Bonk)
Salamander
Snatcher
Star Parodier (Fantasy Star Soldier)
Super Darius
Super Momotarō Dentetsu II
Super Star Soldier
The Kung Fu (China Warrior)
Ys I&II
Damit wird – trotz der Tatsache das manche Spiele doppelt vorhanden sein werden – ein wirklich großer Teil besonderer Software abgedeckt, die entweder bislang niemals in Deutschland im Original gespielt werden konnte, oder eben auf dem importierten originalen System die Investition echter Unsummen verlangt. Auch wenn Puristen sicherlich Gates of Thunder, Nexzr, Final Match Tennis oder einen anderen speziellen Titel auf der PC-Engine mini vermissen werden, spricht das Lineup des wieder auf dem Markt erscheinenden Systems bei einem geschätzten Gesamtpreis von 100 Euro Bände.
Ein echtes PC-Engine-Revival steht an – gar nicht mini!