"Spiels noch einmal, Link!"
Die Zelda Reihe ist heilig. Seit genau 27 Jahren hält der Hauptheld Link in jedem seiner Abenteuer Wort und rettet nicht nur Prinzessin Zelda, die Königstochter des Landes Hyrule, sondern bietet Spielern immer die bestmögliche Unterhaltung mit innovativen Gameplayelementen, welche die gesamte Videospielbranche nachhaltig inspirieren.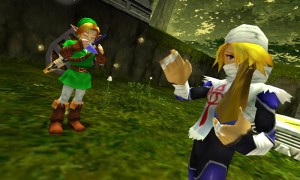 Als vor 15 Jahren mit The Legend of Zelda: Ocarina of Time das erste Polygon Zelda für Nintendo´s N64 erschien, wusste man zwar ungefähr was einen erwarten würde, das Erlebnis schlug aber an Dichte, Spielbarkeit und Stimmung alles was man sich damals je zu träumen gewagt hatte.
Die Geschichte um einen kleinen Elfenjungen, der vom Aussenseiter zum legendenumwobenen Helden heranwächst und dabei das ganze Land vor einer drohenden, teuflischen Übernahme schützt, wurde damals so perfekt inszeniert, dass es keiner großen Veränderungen bedarf, um das Spiel heute nochmals zu veröffentlichen.
Dieses Mal jedoch auf der portablen 3DS Konsole und in echtem 3D. Inhaltlich hat sich zum N64 Original nichts verändert, jedoch ist das auch gar nicht von Nöten.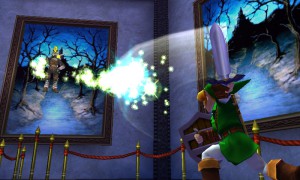 Nachdem man sich mit Schwert, Schild und magischer Flöte bewappnet hat, durchwandert man das Land Hyrule, führt Gespräche mit dessen Bewohnern, erfüllt deren Quests und sucht grandios gestaltete Dungenons auf, in denen neben wichtigen Items und dem geltenden Zahlungsmittel auch weitere, dringend benötigte Edelsteine gefunden werden müssen. Diese werden dafür gebraucht, um in der Zitadelle der Zeit in die Zukunft reisen zu können. Link muss nämlich in zwei verschiedenen Zeitepochen Aufgaben erfüllen, um dem drohenden Übel mit Chancen auf Erfolg entgegenzutreten. In beiden Epochen müsst ihr das heilige Triforce zusammenfügen, das in Einzelteilen verstreut in ganz Hyrule verborgen ist. Die Suche nach diesem magischen Artefakt bildet die Quintessenz eures äußerst abwechslungsreichen Abenteuers. Die zusammenhängende Welt in ihrer Vergangenheit und Zukunft, mit Tages und Nachtzeiten, sowie vielen Freiheiten zum Erforschen und Ausprobieren, funktioniert auch heute noch wie am Tag des Erscheinens. Glücklicherweise hat es sich Nintendo zur Aufgabe gemacht das beste Action-Adventure aller Zeiten nicht bloß zu portieren, sondern es sinnvoll auf die vielen Fähigkeiten des 3DS anzupassen. Hier erwartet Kenner der Serie eine feinere Grafik, eine sinnvolle Nutzung des Touchscreens und der Gyroskopsteuerung.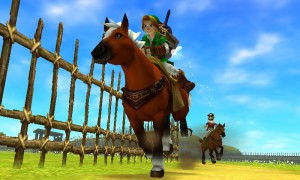 So wird beispielsweise die Umschauoption in der Ego-Perspektive durch das Schwenken des 3DS-Gerätes gesteuert, was für eine immense Steigerung der Wahrnehmungsintensität sorgt. Da Zelda Fans trotz dieser Neuerungen im Pferdsgallop durch ihr altes Lieblingsspiel reiten könnten, hat Big-N zum eigentlichen Abenteuer neben einem Boss-Rush-Modus auch das Master Quest von The Legend of Zelda: Ocarina of Time aufs 3DS Modul gebannt, an dem sich Kenner und Könner, dank angezogenem Schwierigkeitsgrad und gespiegelter Umgebung, die Zähne ausbeissen dürfen.
Legendär!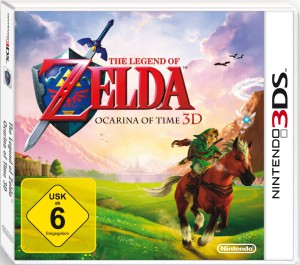 The Legend of Zelda: Ocarina of Time 3D
Fotos: Nintendo
USK 6
Circa 39€
3DS – ASIN: B004X1HR0S