Colosseum
Mit Resident Evil: The Mercenaries 3D versucht Nintendo mit Capcom´s Aushängeserie schon mal den kommenden, exklusiven Resident Evil Teil Revelations für das schmucke 3DS Handheld zu pushen. The Mercenaries 3D ist schließlich bloß eine geupdatete Portierung der schon seit Resident Evil 4 existierenden, actionlastigen Punktehatz in kleineren Arealen verschiedenster Resident Evil Schauplätze.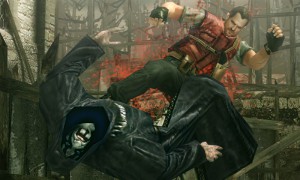 Auf Gamecube, Ps2, Xbox360 und Ps3 darf man sich somit schon seit einiger Zeit an dieser stressigen Terrorübung versuchen, die von einem verlangt, ein Zeitlimit zu überleben und während der hektischen Herumrennerei möglichst viele Umbrella Zombies mit Waffengewalt vom Erdboden zu verscheuchen, nur um das eigene Punktekonto zu füllen. Nun darf man sich erstmals in einem Multiplayer Koop-Modus und auf dem tragbaren Nintendo 3DS in der nervenaufreibenden Zombiehatz versuchen und sich online mit weltweit agierenden S.T.A.R.S. Mitgliedern messen.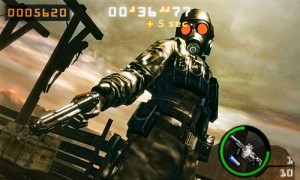 Die Steuerung auf dem Nintendo 3DS Handheld geht Resident Evil Veteranen gut von der Hand, das Zielen in 3D macht einiges her, jedoch wundert man sich etwas über die wenig konstante Darstellungsrate von Feinden, welche weiter weg im Hintergrund zu sehen sind. Hier wirken die sonst so aggressiven Untoten wie ruckliger 2D-Pixel-Brei, der auf Handhelds der vorletzten Generation entstanden seien könnte. Nichtsdestotrotz werden Resident Evil Freunde und Koop-Player auf ihre Kosten kommen, da mit vielen alten, fast vergessenen Bekannten für Fans genügend Gründe geboten werden, sich in den Online-Multiplayerschlachten als Zombiefutter einzureihen oder mit erspielten Top-Ratings den Resident Evil Olymp zu besteigen.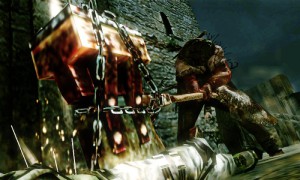 Genießer warten dagegen geduldig auf das folgende Story umspannende 3DS Modul Resident Evil Revelations, dessen zweieinhalb minütige Demoversion zwar auf dem Mercenaries Modul mit vorhanden ist, aber sicherlich nicht als einziger Kaufanreiz genügt. Für Fans ist Resident Evil: The Mercenaries 3D dagegen ein Muss, aber dafür reicht ja schon der Titel auf dem Cover.
Biohazard.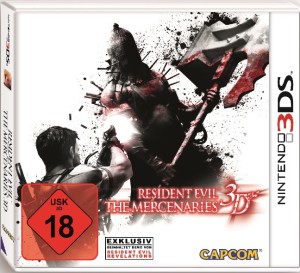 Resident Evil – The Mercenaries 3DS
Fotos: Nintendo
USK 18
Circa 39€
3DS – ASIN: B0051U4IB6