Es grünt so grün
Die Grüne Leuchte dürfte älteren Semestern noch in guter Erinnerung sein. Der Superheld, Beschützer der Galaxie und Träger eines mächtigen Ringes, welcher aus Vorstellungskraft Materielles generiert, kommt nun im Zuge der aktuellen Superheldenverfilmungen zu neuen Ehren. Natürlich darf da die passende Lizenzsoftware nicht fehlen. Warner Bros bietet uns dazu Green Lantern: Rise of the Manhunters auf den aktuellen Konsolensystemen an, in welchem der Spieler die Kontrolle der ersten menschlichen Grüne Leuchte übernimmt.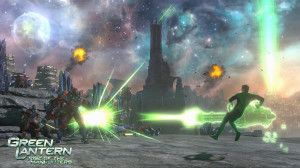 Mit Hack´n Slay Manövern, wie wir sie aus zahlreichen Genrevertretern kennen, boxt, hüpft und schießt ihr euch mit grüner Superkraft durch die fantasievollen Level auf unterschiedlichen Planeten und versucht der anrückenden Roboterarmee der Manhunters ordentlich Kontra zu bieten. Ausweichen, Blocken und die unterschiedliche Angriffstaktiken des Powerrings, die sich im Laufe der Action entwickeln lassen, dienen dabei als Hauptkriterium fürs eigene Überleben.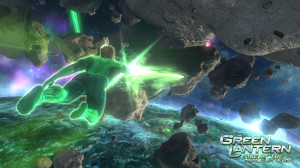 Auflockerung zu den gradlinigen Prügelstages bieten hübsche Rail-Shooter-Sequenzen, in denen ihr fliegend mit einem Fadenkreuz das High Tech Aufgebot der Kontrahenten mit eurer Ringpower vom Himmel holt. Als besonderes Schmankerl ist Green Lantern: Rise of the Manhunters komplett in 3d spielbar, auch falls ihr keinen modernen TV besitzen solltet, der extra für dieses Feature ausgelegt ist. Eine Anaglyphe Rot-Grün 3d Brille aus vergangenen Tagen liegt dem Spiel spaßeshalber zu diesem Zwecke bei.
Technisch wie spielerisch mischt Green Lantern im höheren Mittelmaß mit und gefällt durch ein hübsches Universum sowie einen amüsanten 2 Spielermodus, den man in diesem Genre bisher selten fand. Comicfans und Freunde der Grünen Leuchte können mit diesem Abenteuer sicherlich einige nette Stunden verbringen, falls sie keine spielerische Revolution erwarten.
Grünes Licht für grüne Leuchten.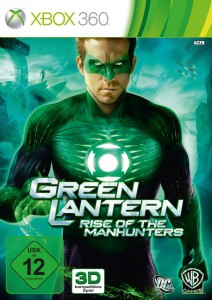 Green Lantern – Rise of the Manhunters
Fotos: Warner Brothers Interactive
USK 12
Circa 49€
PS3 -ASIN: B004Q4EFJI
Xbox360 -ASIN: B004Q4EFIE
Wii -ASIN: B004Q4EFIY