Resident Evil auf Crack
Wenn zwei Meister des Faches zusammenarbeiten, hoffen Fans auf Großes.
So auch bei Shadows of the Damned, das von Killer 7 Erfinder, Suda 51, und dem Resident Evil Schöpfer, Shinji Mikami, in ihrer Grasshopper Manufacture für EA entwickelt wurde. Beide Künstler stehen als Gamedesigner für eingängiges Gameplay, kompromisslose Gewaltdarstellungen und extreme Settings, die sich in die Tiefen eurer Psyche eingraben.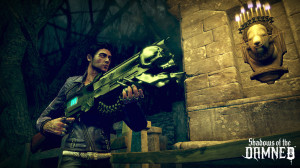 In Shadows of the Damned übernehmt ihr dazu die Kontrolle von Garcia Hotspur, einem Dämonenkiller und waschechten Macho-Haudegen, der seine Liebste nach einem nächtlichen Angriff aus den Klauen der Hölle befreien will. Ihr werdet glücklicherweise von der Dämonenfratze Johnson begleitet, die sich im Laufe eures Höllentrips zu einem äußerst sympathischen Sidekick entwickelt und euch neben ironischen Ratschlägen auch als durchschlagende und multifunktionale Knochenpistole zur Seite steht. Den vorher genannten Werken entsprechend, spielt ihr auch diesen Höllentrip, neben einigen spielerischen Gags in 2D, in gewohnter 3rd Person Manier und nehmt hässliche, Kung-Fu-Kicks verteilende Mutanten im Minutentakt über die Schulterperspektive vor das knöcherne Korn.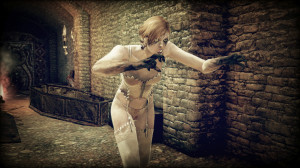 Doch auch riesige Fleischberge, denen mit Taktik wie Geschick Paroli geboten werden muss, stellen sich euch mit angenehmer Regelmäßigkeit in den Weg.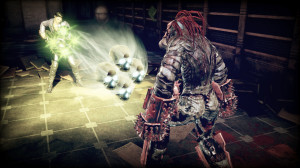 Der schwarze Humor, viele sexistische Anspielungen, leichte Rätsel und das derbe Dämonenkiller Duo sind so unterhaltsam wie ein spitzenmässiges B-Movie, so dass man die etwas altbackene Technik und das zwar flotte, actionlastige aber eher gewöhnliche Gameplay einfach zum Gesamtwerk hinzuzieht und es gerne als Mittel zum Zweck anerkennen mag. Garcia´s Trip in die Unterwelt ist somit nichts für feine Dinnerparties, dafür aber als äußerst spaßig-morbider Popkorn-Shocker kaum zu überbieten, auch wenn leichte, qualitative Mängel, wie wir sie von beiden Designergrößen nicht gewohnt sind, vorhanden sind. Entweder man hasst Shadows of the Damned oder man liebt Shadows of the Damned. Schließlich ist es fast durchweg ein ziemlich freakiger Heidenspaß, der sich selber kein Stückchen ernst nimmt.
Badabang mit Höllenklöten!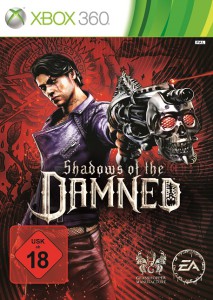 Shadows of the Damned
Fotos: Electronic Arts
USK 18
Circa 59€
PS3 – ASIN: B004VQ8Z0G
XBOX360 – ASIN: B004VQ8Z2O