Auf den Spuren des Dr. Moreau.
Die Insel des Dr. Moreau ist eine bekannte Horrorstory von dem bekannten englischen Autor H.G. Wells. Seit 2015 werkelt ein Team von Programmieren und Gamedesigner bei der Frog Factory an einer passenden Fortsetzung, die von den Folgegeschehnissen nach dem Ende der Geschichte berichten soll. Jedoch wird dieses Werk kein Literarisches, sondern in Form von Bits und Bytes als Computerspiel für den PC veröffentlicht. Heathen The Sons of the Law erlaubt erste Einblicke, nachdem es drei Jahre lang recht still um die Tierkreaturen auf dem verborgenen Eiland wurde.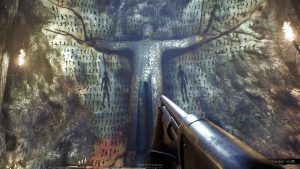 Foto: Frog Factory
Neue Götter für neue Menschen, die Tiere sind – Heathen.

In Heathen The Sons of the Law wird der oder die Protagonistin auf der Insel des Dr. Moreau wiedergefunden und hat die Aufgabe in der unwirklichen Natur durch Waffengewalt zu überleben. In Form eines typischen First-Person-Shooters generiert, sind Wald, Wiesen, Höhlen und Behausungen fremder Kreaturen das sichtbare Thema der Versoftung, die in dem ersten Gameplaytrailer die ersten Zuschauer mit stimmungsvollem Ambiete überzeugen konnte.

Düster und atmosphärisch – Heathen The Son of the Law.
Tiermenschen, welche sich die Gegebenheiten ihrer Umgebung zunutze machen und durch individuelle Verteidigungsmaßnahmen einen eigenen Charakter aufzeigen, versuchen das Fortschreiten zu erschweren und verlangen den Einsatz von verschiedenen Utensilien, die meist martialische Natur besitzen. Nachdem sich Heathen The Sons of the Law seit über drei Jahren in der Entwicklung für den PC befindet, können sich Abenteurer wohl langsam darauf einstellen, die Schreckensinsel des Dr. Moreau mit eigenen Augen zu bereisen und sich daran versuchen, die Geheimnisse und Wunder des alten H.G. Wells Romans in neuer Form wiederzuentdecken. Im Steam-Early-Access rechnet man mit einer Veröffentlichung im Herbst dieses Jahres. "Roar", sagt da der Jaguarmann!