Ein kräftiger Zelda-Zauber.
The Legend of Zelda: Ocarina of Time gilt nicht nur als eines der besten Spiele der Geschichte, es war auch die Blauzeichnung für viele, viele, viele darauffolgende Videogames.
Da dieser Klassiker sogar heute noch eine gute Figur abgibt, wundert es einen nicht, dass weiterhin Spieler nachträglich der Nintendo-Abenteuerlust frönen und sich durch die erste aller gestalteten Hyrule-Polygon-Landschaften machen.
Ein blinder Spieler beendete Ocarina of Time nun tatsächlich nach fünf Jahren Spielzeit und ließ via Youtube Zuschauer teilhaben.
Ein kräftiger Zelda-Zauber.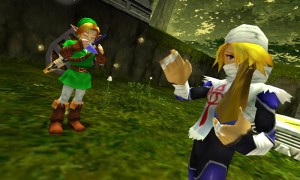 Foto: Nintendo
Zelda bietet eine magische Welt – wohl auch ohne Augenlicht.

Ganze fünf Jahre hat der Youtube-User MegaTgarrett an seinem Projekt gesessen, um The Legend of Zelda: Ocarina of Time durchzuspielen. Nur Mithilfe einer speziellen Audio-Ausgabe und der Fähigkeit zwischenzuspeichern, schaffte der erblindete Zocker einen kompletten Durchgang des recht umfangreichen Action-Adventures, den er auf Youtube dokumentierte.
Auch wenn PC-Emulation des Klassikers im Allgemeinen sicherlich nicht sehr gerne von Big-N betrachtet wird, dürfte der hier verwendete Gebrauch alle Mittel heiligen.
Das wirklich bemerkenswerte Epic-Life-Time-Achievement – Prinzessin Zelda ohne Augenlicht zu erretten – dürfte schließlich auch im Sinne des Erfinders liegen.
Ein kräftiger Zelda-Zauber zum dreißigsten Geburtstag der Serie.
Shigeru Miyamoto dürfte so fasziniert wie stolz sein.