Return of Shmup?
Während in 2014 dank großen Crowdfunding-Maßnahmen die Rückkehr der Space-Simulationen eingeläutet wurde, hofft eine andere Spiele-Front der alten Schule auf eine andere erfolgreiche Fortsetzungsgeschichte.
Angriffe aus dem All.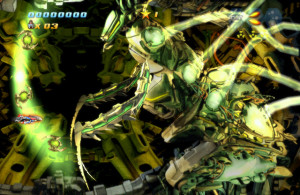 Foto: Duranik
Das letzte wirklich schöne Shmup – Sturmwind aus 2013 für DC

Nicht alle Spieler sind mit der aktuellen Auslage des Spiele-Marktes absolut zufrieden.
Ein Genre das maßgeblich für die Verbreitung früher Spiele verantwortlich war, scheint gar ganz ausgestorben, wären Indie-Publisher und Überbleibsel einer alten Industrie nicht noch in kleinem Kreis am Werk.
Shmups oder Shoot'em Ups waren über zwanzig Jahre lang ein begehrtes Ausflugsziel videospielender Menschen.
Doch um die Jahrtausendwende ebbte das Angebot immer stärker aus, bis derartige Spiele meist nur noch als Download angeboten wurden.
Dass dieses Genre aber heute noch überzeugen kann, bewies zuletzt der Defender-Klon Resogun auf PS4, der leider auch nur aus der Steckdose geliefert wird.
Zum Jahreswechsel würde sich manch alter Spieler daher sicher eine gelungene Rückkehr vergessener Größen wünschen, die in den seltensten Fällen sogar auch in 2015 stattzufinden scheinen.
Ein erhöhtes Aufkommen der bunten All-Ausflüge, wäre aus Sicht von Spiele-Maschine.de auch ein feiner Weg, moderne Hardware mit alten, aber aktuell nicht ausgelutschten Konzepten auszureizen.
Aktuell dürften Trigger-Finger immerhin auf diese Spiele hoffen, die nicht nur als Fan-Projekt auf einer technisch überholten Konsole erscheinen werden.
PS4
– Ubusana: vom Designer von Ikaruga und Radiant Silvergun.
– Jamestown Plus
– Super Stardust Ultra
– We Are Doomed
– Astebreed
– REVOLVER360
– Galak-Z: The Dimensional
– Touhou Project
– Aqua Kitty: Milk Mine Defender DX
– Project Root
Vita
– Söldner-X 2: Final Prototype – auch für PS3
– Galak-Z: The Dimensional
– Touhou Project
– Geometry Wars 3: Dimensions
– Aqua Kitty: Milk Mine Defender DX
– Project Root
– Son of Scoregasm
XBOX ONE
– We Are Doomed
– Raiden V
– Natsuki Chronicle
– Shooting Love Trilogy!
– Project Root
PC
– Drifting Lands
– Galak-Z: The Dimensional
– Son of Scoregasm
Auf NeoGAF.com findet man diese kleine Zusammenfassung der bereits angekündigten Baller-Späße alter Schule.
Hoffentlich findet man darunter auch wirklich gute – und nicht nur alle zum Hinunterladen.
Sonst kauft man doch lieber Ghostblade für Dreamcast, das bereits im Oktober einen bisher übersehenen, aber vielversprechenden Trailer vom herstellenden Hucast Indie-Team spendiert bekam.

Shoot'em Up – auch in 2015 bitte sehr.