THEA500 Mini kommt via Retro Games mit 25 Spielen.
Ende 2019 war es noch Wunschdenken, irgendwann einen kleinen Commodore Amiga 500 sein eigenen nennen zu können. Im August 2021 wurde die Hardware dann aber tatsächlich angekündigt. Nun hat der Entwickler Retro Games einen Termin genannt, wann der beliebte Heim-Computer in seiner kleinen Neuauflage über Koch Media den Handel kommt und damit die Fans erreicht. Der Amiga 500 Mini erscheint im März.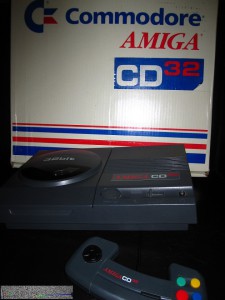 Foto: mze
Kein CD32-Mini – aber THEA500 Mini macht seine Sache gut.

Über Facebook.com gab Retro Games Ltd am Freitag bekannt, dass die Miniaturfassung des berüchtigten Commodore Amiga 500 als THEA500 Mini am 25.03.2022 für 129€ in den Handel kommt. Das System, das Kinder- und Jugendzimmer in den frühen 1990er-Jahren bewohnte, war für seine grafischen und musikalischen Fähigkeiten berühmt und bot dank Piraterie einen riesigen Katalog Spiele zum Zocken. 25 Titel der bekannteren Games werden auf der Spiele-Maschine fest verbaut sein, sodass Käufer der Kiste direkt nach dem Auspacken in Erinnerungen schwelgen können. Da auch eine Maus und ein Gamepad in der Verpackung schlummern, muss man sich über reguläre Eingabeoptionen ebenso erst einmal keine Gedanken machen.

Ein Amiga 500 Mini erscheint im März als THEA500 Mini!
Die finale Spieleliste sieht folgendermaßen aus:
Alien Breed 3D
Alien Breed: Special Edition'92
Another World
Arcade Pool
ATR: All Terrain Racing
Battle Chess
Cadaver
California Games
The Chaos Engine
Dragons Breath
F-16 Combat Pilot
Kick Off 2
The Lost Patrol
Paradroid 90
Pinball Dreams
Project-X: Special Edition 93
Qwak
The Sentinel
Simon the Sorcerer
Speedball 2: Brutal Deluxe
Stunt Car Racer
Super Cars II
Titus The Fox: To Marrakech And Back
Worms: The Director's Cut
Zool: Ninja Of The "Nth" Dimension
Neben schönen Röhrenfernseher-Bildlinien gibt es weitere Einstelloptionen sowie die Möglichkeit, während des Spielens abzuspeichern. Da auch ein USB-Port an dem Gehäuse vorhanden ist, können gar auch weitere Titel in den THEA500 Mini geladen werden, was den Spaß mit dem System natürlich stark erhöht. Einzig, dass die Tastatur wohl wieder einen ästhetischen Charakter besitzt und nur via virtuellem oder per USB-Anschluss verbundenem Keyboard Eingaben getätigt werden können, macht ein bisschen traurig. Der THEA500 Mini gefällt aber trotzdem gut und erfüllt alle Wünsche nach einer Hardeware-Revision ziemlich gekonnt.
Der Besuch einer alten Freundin steht an!