Alle in 2015…
Nachdem 2014 auf den Next-Gen-Konsolen nicht unbedingt überzeugen konnte, lagen bereits vor Ende des Jahres viele Hoffnungen auf dem jetzigen Jahr.
2015 könnte eines der reichsten Jahre für Gamer bedeuten, was sich besonders an der hereinbrechenden Flut an Spielen für das bisher am besten verkaufte Gerät messen lassen sollte.
Und 70 PS4 Exclusives – die alle in 2015 erscheinen sollen – sprechen dafür.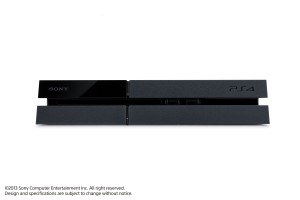 Foto: Sony
Bekommt sie bald endlich nahrhafte Kost? – PS4.

PSgamer aus England hat sich die Mühe gemacht alle bekannten Titel, die in diesem Jahr auf Playstation4 erscheinen sollen, auf der eigenen Web-Präsenz anzusammeln.
Auf ganze 70 exklusive Titel kommt der Redakteur. Auf PSgamer mit Youtube-Trailer und Kurzbeschreibung versehen.
Xbox One und WiiU würden keinen der auftretenden Verdächtigen in ihren CPUs verarbeiten dürfen, was der Autor unterstreicht, um Klarheit über die genannte Konsolen-Exklusivität zu schaffen.
Wer eine schnelle Internetverbindung hat, schaut sich die Spiele auf PSGamer an.
Die Liste der kommenden 70 PS4 Exclusives, folgt in leicht verdaulicher Form aber auch hier auf Spiele-Maschine.de
Let's go!
Jamestown Plus, Deep Down, H1Z1, Axiom Verge, Planetside 2 , Bloodborne, Wander, Collectems, H-Hour: Worlds Elite, MLB 15: The Show, Volume, Godzilla, Basement Brawl, N++, No Man's Sky, Dragon Fin Soup, Grim Fandango Remastered, Pavilion, Ray's of the Dead, The Order: 1886, Rime, OlliOlli2, Hellblade, God Eater 2 – Rage Burst, Soma, Until Dawn, Galak Z, Bombshell, Rachtet & Clank, Ether One, Shadow of the Beast, Titan Souls, Uncharted 4: A Thiefs End, Abzu, Persona 5, Hotline Miami 2: Wrong Number, Not a Hero, The Talos Principle, Broforce, Ultra Street Fighter IV, Disgea 5, Primal Carnage: Genesis, Toren, Aliennation, The Witness, Rocket Birds, Big Fest, Tearaway Unfolded, Aaru's Awakening, Final Fantasy X & X2 HD Remaster, Wild, The Vanishing of Ethan Carter, Drifter, One Piece Pirate Warrior 3, Wattam, Hotshots Golf, Super Exploding Zoo, Fat Princess Adventures, Everybody's gone to the Rapture, The Tomorrow Children , Helldivers, Salt and Sanctuary, Magicka 2, Let it die, Kill Strain, Dungeon Defenders II, VisionEck, Orc must die – Unchained, Paperbound.
Welche dieser Titel tatsächlich den Anspruch besitzen, auf der "stärksten Konsole der Welt" berechnet werden zu müssen, welche dieser Titel auch doch schon auf anderen Playstation Geräten oder in ähnlicher Form auf alternativen Konsolen spielbar gewesen wären und welche dieser Titel tatsächlich technisches Playstation4 Vollpreisniveau beherbergen, sollten sich die vielen Fans, die das Gerät in kurzer Zeit zu der erfolgreichsten Next-Gen-Spiele-Maschine kürten, hoffentlich selber beantworten können.
Ouya!