Vier Spiele zu Siegern gekürt.
Die Video Game Hall of Fame prämiert jährlich einige Videospieltitel aus der Vergangenheit, die durch Langlebigkeit und Auswirkung auf die Branche besonders punkteten. Auch in 2017 wurden aus einem gesammelten Katalog verschiedener Videogames vier Gewinner gezogen, die sich fortan zur Creme de la Creme des Gamings zählen dürfen. Neuzugänge in der Video Game Hall of Fame.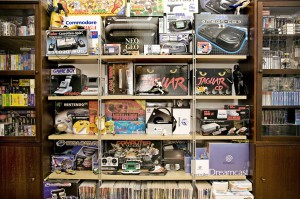 Foto: mze
Games als Stars – Videogames Fame-Wall.

Seit 2015 veranstaltet das National Museum of Play aus den USA die Wahl zu den wichtigsten Spielen der Vergangenheit und fügt die besten Titel in die World Video Game Hall of Fame. Dort tummeln sich bereits Pong, Pac-Man, Mario und Link sowie einige weitere Gewinner der letzten Wahlen, die nun vier Neuzugänge in ihren Reihen begrüßen dürfen.
Aus über 100 Ländern wurden Spiele für Handhelds, Konsolen, Arcadeboards, Computer und Smartphones in die Wahl einbezogen, unter deren Finalisten sich beispielsweise Final Fantasy VII, Tomb Raider oder Resident Evil befanden.
In 2017 wurden jetzt aber Nintendos Donkey Kong sowie die ersten Pokèmon-Veröffentlichungen für den Game Boy hinzugefügt; Microsofts Halo Combat Evolved und Capcoms Street Fighter II erhielten ebenfalls die große Ehre. Im Strong Museum in Rochester werden diese vier Titel nun dauerhaft in Displays für alle Besucher der Ausstellungsräume zu sehen sein.
Gratulation an die Gewinner.