Untergegangenes Highlight mit Videoausschnitt.
Im Rausch der vielen Videospielmessen und Wiederveröffentlichungen alter Titel ist eine Nachricht aus dem August unbemerkt untergegangen. Atari und Jeff Minter – die sich aufgrund von TxK auf der Playstation Vita in den Haaren hatten – haben ihren Streit beigelegt und stellen in Zusammenarbeit eine neue Fassung ihrer beliebtesten psychedelischen Röhrenschießerei her.
Tempest 4000 von Jeff Minter und Atari kommt.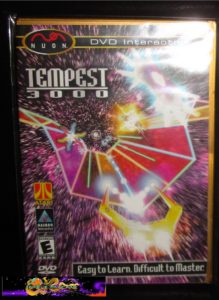 Foto: mze
Nuon-Systeme erhielten das letzte echte Tempest – 3000.

Schon bevor erste Bilder oder genaue Aussagen über Tempest 4000 gemacht werden konnten, ließ Atari via Pressemitteilung Anfang August gewisse Fachmedien informieren, dass man zusammen mit dem schon auf dem Atari Jaguar ein Tempest herstellenden Jeff Minter erneut zusammengefunden habe, um eine neuste Version des psychedelischen Arcade Cassics für die heutige Generation anzufertigen. Nun gibt es seit Beginn dieses Monats erste handfeste Infos, die von der PAX West an Land gespült wurden. Dort wurden erste Screenshots veröffentlicht und genauere Details über das kommende Geballer verraten. Auf PC, PS4 und Xbox One soll das auf 4K gepimpte Tempest 4000 seinem Namen alle Ehre machen und mit drei verschiedenen Game-Modi längerfristig überzeugen. 100 Level sind erneut von Jeff Minter auf den neusten Stand gebracht worden und mit einigen neuen Gegnern versehen worden, wie ein Videoausschnitt in Full-HD demonstriert.

Television is the retina of the mind's eye!
Ob Jeff Minter seine durch die Entwicklung von Polybius gewonnenen Erfahrungen über Virtual Reality in das neuste unter Atari-Label erscheinende Tempest einzubauen gedenkt, steht aktuell leider noch in den vielen hellen Pixelsternen geschrieben.
Bunte Wunder scheinen aber zu geschehen!