Nun auch mit funktionierender Tastatur!
Mini-Konsolen und Revivals alter Computer haben derzeit Hochkonjunktur. Nahezu alle altbekannten und glorreichen Systeme werden von unterschiedlichsten Herstellern erneut in verkleinerter Fassung auf den Markt gebracht, um erneut für klingende Kassen zu sorgen. Der beliebteste Heimcomputer der Achtzigerjahre erhielt in Form des C64 Mini bereits im März letzten Jahres eine zweite Chance, doch anscheinend reichte das nicht. Jetzt werden Koch Media und Retro Games erneut die 8-Bit-Spiele-Maschine in den Handel bringen, jedoch auf die Schrumpfkur verzichten. Return of the THEC64!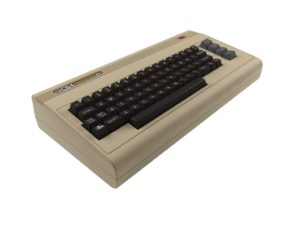 Foto: Koch Media
Die Brotkiste kommt zum dritten Mal im Handel.

Schon vor drei Tagen machten Koch Media und die Retro-Freunde von Retro Games Ltd. darauf aufmerksam, dass man eine weitere Fassung des alten Commodore Computers C64 veröffentlichen werden wird. Unter dem Namen THEC64 bringen die beiden Firmen in Kooperation eine Revision des alten 8-Bit-Computers am 05. Dezember in den Handel, die im Vergleich zum C64 Mini nicht in der Größe geschrumpft worden ist. Ein originales Gehäuse samt funktionierender Tastatur sind diesmal das Highlight des erneut zum Leben erweckten Systems. Auch werden wieder 64 Spiele mit an Bord des THEC64 sein, bei denen aber einige Neuzugänge zu erwarten sein werden. So werden Jeff Minters Attack of the Mutant Camels oder Gridrunner erstmalig mit verkauft, und auch zwei moderne Entwicklungen für den 1982 veröffentlichten Computer sollen beim Kauf enthalten sein. Das Shoot'em Up Galencia und das Textadventure Planet of Death erleben wohl erstmals einen kommerziellen Erfolg, wenn sie auf THEC64 landen. Zusätzlich zu diesen Neuerungen wird neben dem regulären und nun durch das funktionierende Keyboard auch nutzbaren C64 Basic auch ein Vic 20 Basic auf dem System schlummern, dass Hobbyprogger zum ausprobieren einladen soll. Via USB-Flash-Drive können dann auch weitere Games oder Programme auf dem THEC64 geladen und genutzt werden.

THEC64 nun in Originalgröße ab Dezember 2019 – toll?!
Wer noch nicht genügend Commodore Computer daheim stehen hat, darf sich daher einen Einkauf des erneut auf den Markt geschmissenen C64 überlegen, und schon einmal anfangen 119,99 Euro zusammenzusparen. Für diesen saftigen Preis soll der THEC64 schließlich im Geschäft des Vertrauens im Dezember angeboten werden.
Selbst ein Amiga 500 Mini wäre für diesen Betrag leider noch viel zu teuer …