Magische Erinnerungen.
Ni No Kuni II – Schicksal eines Königreiches war ein gelungenes J-RPG von BandaiNamco, das vom begnadeten Level-5-Team kreiert wurde. Seit dem Release im April 2018 hat der Publisher bereits zwei zusätzliche Veröffentlichungen für das schöne Videospiel herausgebracht, jedoch auch einen dritten DLC angekündigt. Heute gab es Nachrichten über den anstehenden Release, der unter dem Titel "Magische Erinnerungen" am 19. März erscheinen wird. Der nächste DLC für Ni No Kuni II wurde angekündigt.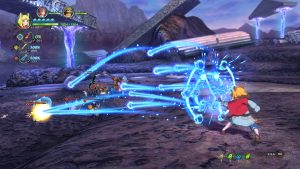 Foto: BandaiNamco
Mehr Abenteuer für King Evan – DLC "Magische Erinnerungen" erscheint.

Bereits im Juli 2018 informierte der Publisher BandaiNamco über die geplanten Zusatzinhalte von Ni No Kuni II, von denen bereits neben einem kostenlosen Adventure Pack auch die erste Episode "The Lair of the Lost Lord" erhältlich gemacht wurde. Jetzt steht am 18. März die letzte Download-Geschichte für das japanische Rollenspiel an, die in Deutschland unter dem Titel "Magische Erinnerungen" erscheinen wird. Ein Trailer gibt bereits einen kleinen Einblick in das Geschehen, das nahtlos in die bisherigen Erlebnisse von König Evan eingefügt werden wird.

Evan is back – Ni No Kuni II findet kein Ende.
Geboten wird im dritten DLC ein neues, traumhaftes Abenteuer, in dem Spieler eine Gefahr bekämpfen müssen, die von Albträumen ausgelöst wird. Dabei beinhaltete es zwei neue Kampftechniken namens "Begleitmagie" und "Martha-Martial". Zusätzlich gibt es eine neue Arena namens "Das Kolosseum", in dem Spieler in einer Reihe von Kämpfen gegen die Zeit verschiedene Belohnungen verdienen können.
Weiter geht's!