Gelungener Coup.
Schon als vor zwei Jahren, der Test zu GTAV geschrieben wurde, wusste man von dem Vorhaben der Rockstar Games Studios, dass man in Zukunft einmal online gemeinsam mit Freunden Los Santos unsicher machen dürfe.
Nun scheint die Wartezeit ein Ende zu haben, denn die Multiplayer-Schlachten sind gestern offiziell samt Erscheinungstermin angekündigt worden. Online Heists GTAV incoming.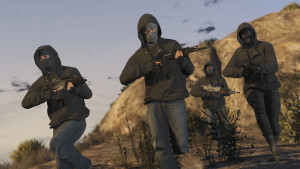 Foto: Rockstar Games
Mit den Panzerknackern in die Bank – Online Heist in GTAV

Am 10.03.2015 sollten alle GTA-Gangster damit rechnen können, das am heißesten ersehnte Feature des erfolgreichen Open-World-Spieles endlich herunterladen zu können, um sich anschließen mit ihrer Bande, an echte Diebes-Verbrechen im virtuellen Bundesstaat machen zu können.
"We are excited to announce that the launch of Heists for GTA Online is scheduled for March 10th. We know it's been a wait, and appreciate your patience. Heists will bring a brand new 4-player cooperative gameplay experience to GTA Online, giving players the chance to team up to pull off a string of intense, multi-part raids and robberies across Los Santos and Blaine County. Over the next couple of weeks, we will have more information about the launch of Heists and about other new features that we will release with it."
Auch PC Spiele bekamen aber ihre Freundschaftsbotschaft des Herstellers, da mit der Ankündigung der Online Heists auch der Veröffentlichungstermin der verschobenen PC-Version preisgegeben wurde.
Am 14. April diesen Jahres, dürfen MS-Dosen-Spieler endlich auch ihrer kriminellen Ader nachgeben und in einem der besten Spiele der Geschichte ordentlich auf die Pauke hauen.
In wie weit die grafischen Fähigkeiten der individuell zusammengestellten Rechner genutzt werden, dürfte besonders die erst kürzlich auf Next-Gen-Systemen gelandeten Spieler interessieren, die jene zuletzt erschienene Version schon für das Nonplusultra hielten.
"The PC version of Grand Theft Auto V is our most graphically and technically advanced version yet, fully optimized to support a broad range of current hardware (system specifications) and features a host of PC-specific enhancements including greater levels of detail, deep configuration options and ultra-high-definition support – as well as the powerful new Rockstar Editor for recording, staging and editing original custom videos."
Gangster Action überall – zwei Jahre nach Release.
Was für ein gelungener Coup!
Quelle: www.rockstargames.com