32X und Mega-CD-I zwecks kosmetischer Verschönerung.
Am 19. September wird seitens Sega das Mega Drive als Mini-Konsole in Deutschland veröffentlicht. 40 Spiele sind in dem kleinen Gerät enthalten, die dank der Arbeit von M2 sicherlich auch hervorragend an modernen Fernsehgeräten funktionieren werden. Nun ist nicht nur die komplette Liste der installierten Games bekannt gegeben worden, auch wurde eine Überraschung heraus posaunt, mit der man wohl kaum gerechnet hätte. Das Mega Drive Mini bekommt Hardwareupgrades in Form von 32X und Mega-CD-I.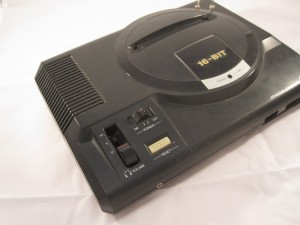 Foto: mze
Mega Drive Mini bekommt Hardwareupgrades – 32X und Mega-CD-I.

Sega hat seine Versprechen erfüllt und bringt das eigene Mega Drive als Mini-Konsole erneut auf den Markt, obwohl es bereits einige Revivals seitens Fremdherstellern gab. Da man nun die vierzig Titel, welche für den europäischen Markt vorgesehen sind, bekannt gegeben hat, machte man zeitgleich eine weitere Ankündigung, die Fans des alten 16-Bitters ansprechen soll. Auch wenn bloß für kosmetische Zwecke geeignet, so wird die Miniatur-Konsole ihrem Original in nichts nachstehen, da die Hardwareupgrades des MD auch für das MD-Mini veröffentlicht werden. Kleine Plastikteile in Form von Mega-CD-I und 32X sollen erscheinen, die man unter beziehungsweise auf das Mini-Gerät stecken kann, um authentisches Sega-Flair der vergangenen Neunzigerjahre imitieren zu können. Sogar ein Sonic&Knuckles-Modul wird erhältlich sein, dem ebenfalls das Imitat eines Sonic-Spiels oben eingeschoben werden kann, um den Sega-Hardware-Wahn zu komplettieren. Ebenfalls interessant dürfte sich für Freaks die Tatsache gestalten, dass auch das einst fürs MD geplante und in einzelnen Modulen veröffentlichte Tetris auf dem MD-Mini befinden wird, was höchstpersönlich von dem Tetris-Erfinder Alexey Pajitnov und dem damaligen Lizenzvergeber Henk Rogers bestätigt wurde.
Zusätzlich befinden sich laut verschiedenen Quellen folgende Games an Board der Mini-Sega-Maschine:
Sonic The Hedgehog
Ecco the Dolphin
Castlevania: The New Generation
Space Harrier 2
Shining Force
Dr. Robotnik's Mean Bean Machine
ToeJam & Earl
Comix Zone
Altered Beast
Gunstar Heroes
Castle of Illusion Starring Mickey Mouse
World of Illusion Starring Mickey Mouse and Donald Duck
Thunder Force III
Super Fantasy Zone
Shinobi III
Streets of Rage 2
Earthworm Jim
Sonic The Hedgehog 2
Probotector
Landstalker
Mega Man®: The Wily Wars
Street Fighter II®: Special Champion Edition
Ghouls 'n Ghosts®
Alex Kidd in the Enchanted Castle
Story of Thor
Golden Axe
Phantasy Star IV: The End of the Millennium
Sonic The Hedgehog Spinball
Vectorman
Wonder Boy in Monster World
Tetris®
Darius
Road Rash II
Strider
Virtua Fighter 2
Alisia Dragoon
Kid Chameleon
Monster World IV
Eternal Champions
Columns
Dynamite Headdy
Light Crusader
Ein bunter Mix mit viel nostalgischem Wert – vielleicht wird das Mega Drive Mini ja nun doch erfolgreich abgesetzt …
… und auch das Mega Drive Mini Decoration Kit!