Blickt hinter die Kulissen …
Devolver Digital vertreibt seit letzter Woche das 2D-Plattform-Horror-Monster-Spiel Carrion, das sich seit der Veröffentlichung zu einem kleinen Erfolg mausert. Über 200000 Spieler kauften sich den Titel und Hunderttausende Zocker nutzten den Xbox Gamepass, um mit dem fleischigen Protagonisten des Spiels auf Menschenjagd zu gehen. Nun hat der Entwickler Phobia Game Studios einen kleinen Film produziert, der hinter die Kulissen blicken lässt. Carrion im Video.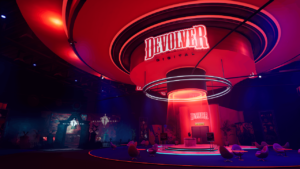 Foto: Devolver Digital
Devolver hat Carrion wohl selbst ganz gern.

Anstatt die tatsächlichen Macher des Videospiels Carrion zu Wort kommen zu lassen, hat Phobia Game Studios in Zusammenarbeit mit Imago Films den Haupthelden zu einem Interview bewegt, um die Entstehungsgeschichte der Entwicklung zu beleuchten. Da Devolver Digital und dessen Teams nicht wie der Rest der Branche ticken, ist das Gezeigte natürlich nicht ganz ernst zu nehmen. Ein Gummimonster erzählt von seinem Weg in die Computer-Branche und prahlt von den technischen Errungenschaften, die die Herstellung von Carrion ermöglicht haben sollen.

Carrion – Behind the Screams / Carrion im Video.
Mit Humor und selbstverständlich auch mit kleinen Gewalteinlagen, versucht man alle noch nicht das Game spielenden Zocker anzusprechen und vom Ausprobieren des Titels zu überzeugen. Da jedoch das Gameplay komplett unter den Teppich gekehrt wird, sollten Let's-Plays vor einem Einkauf angeschaut werden, um herauszufinden, ob der Titel taugt.
Carrion – Behind the Screams reicht dafür leider nicht aus. Rülps!