Vier-Spieler-Modus im beliebten Arcade-Game.
Fragt man ältere Semester bei spontanen Gesprächen, welches Spiel sie in ihrer Jugend am liebsten mit Kumpels gespielt haben, fällt immer wieder ein Titel besonders ins Gewicht: Bubble Bobble von Taito scheint seinerzeit ganz große Eindrücke hinterlassen zu haben, egal, auf welchem System es in der Vergangenheit gespielt wurde. Drei Nachfolger erhielt das Blasen spukende Drachen-Team, auch wenn Rainbow-Islands nur bedingt sichtbar mit Bub und Bob in Verbindung steht, sowie auch Parasol Stars. Jetzt wird ein "vierter Teil" seitens InIn Games für Konsolen produziert, der schon im November veröffentlicht werden soll. Bubble Bobble 4 Friends erscheint für Nintendo Switch.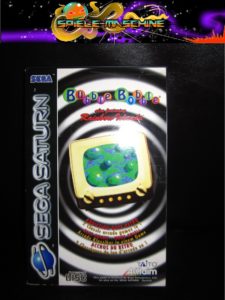 Foto: mze
Selbst noch auf Saturn gelandet – Bubble Bobble 1 und 2.

"Now it is the beginning of a fantastic Story", ließ einen das Spiel Bubble Bobble zu Beginn mit süßen Melodien untermalt jedes Mal wissen, spielte man im Kinderzimmer auf dem Fußboden mit einem guten Freund die Abenteuer der beiden Drachen Bub und Bob. Nun wird es wieder Zeit für eine fantastische Geschichte, bei der jedoch gleich zwei weitere Freunde mitgenommen werden können. InIn Games kündigte schon im Juni 2019 an, dass man über United Gams eine Zusammenarbeit mit dem legendären Videospielhersteller Taito eingegangen wäre, die die erneute Produktion zeitloser Klassiker für Konsolen zum Ziel haben solle. Gestern veröffentlichte man dann den offiziellen Ankündigungstrailer für eines dieser Spiele, die zeitlos und modern zum selben Zeitpunkt sein sollen.

Bubble Bobble 4 Friends erscheint für Nintendo Switch.
Auch wenn schon in den vergangenen Neunzigerjahren Bubble Bobble Part 2 für NES, sowie in Spielhallen Bubble Symphonies (auch auf Sega Saturn) und Bubble Memories erschienen waren, wird hier wohl mit dem konsolentauglichen Vierspieler-Modus der weltweit wahrgenommene vierte Teil der beliebten Reihe auf Konsolen veröffentlicht werden. Bubble Bobble 4 Friends erscheint auf Nintendo Switch am 19. November und tritt damit aber terminlich sogleich in Konkurrenz zum heiß ersehnten Single-Player-Game Shenmue III.
Fast wie in alten Zeiten … Bubble Bobble 4 Friends.